If you are like me and want to recognize the people in your child's life at the holidays, you are always looking for someone clever and inexpensive. If you are like me and have a child with special needs, you have even more people who you want to do something for.  I've posted the recipe before but every Christmas season people start asking for the recipe again.  You can use this year round but it does make a nice little gift or happy without breaking the bank. Up until I started making these to give away and take to gatherings, my chicken enchiladas (actually Vanessa's Chicken Enchiladas) were my most requested recipe. Now, my most requested recipe hands down is Sassy Pretzels!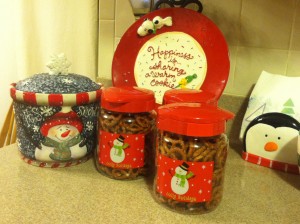 These are good for about three weeks in an airtight container. I make them, put them in Christmassy jars (plastic with lids) or disposable Christmas containers and we give them to teachers, para's, social worker, dance teacher, therapists, choir director, dinner hostesses – pretty much anyone. Men love them too.  Rachel's friends at church and school are always wanting to know if I am bringing some of those "pretzel thingies."  If you are still trying to figure out a little happy for some folks on the list, consider these. Ho Ho Ho!
Sassy Pretzels
1 cup vegetable oil
1 envelope (1 oz.) powdered ranch salad dressing mix such as Hidden Valley
1 tsp. garlic powder
1 tsp. cayenne pepper
2 bags 15 oz. each thin pretzels (I like to use miniature pretzels)

– the oven to 200 F.  Pour the oil into a 2-cup glass measuring cup.  Add the ranch dressing mix, garlic powder and cayenne pepper.Whisk until thoroughly mixed.Pour 1 bag of pretzels into each of 2 ungreased 9 x 13 inch baking pans.Pour half of the oil mixture over each pan.  (Use a spatula to get all of the oil mixture into the pan.)Stir gently until all of the pretzels are coated with the oil mixture.Bake, uncovered, 90 minutes, stirring and turning every 20 minutes or so.  Remove the pans from the oven, and cool completely, about 30 minutes.  Store the pretzels in an airtight container at room temp for up to 3 weeks.  Makes 3 1/2 quarts. 
This is the original recipe.  My modification is below.

 ** I use a heaping teaspoon of both the cayenne and the garlic powder and  about 1 1/2 packages of dry ranch.