This is a fun, easy little breakfast recipe for your family or guests. It looks festive with the red and blue berries! I call it Breakfast Berry Pies. You could also make these for dessert and serve with ice cream or whipping cream.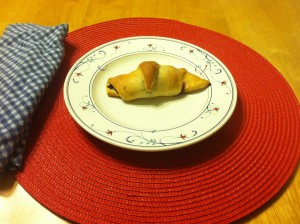 Breakfast Berry Pies
1 package of crescent rolls (8 rolls)
1/3 cup raspberries
1/3 cup blackberries
1/3 cup blueberries
2 tablespoons lemon juice
2 tablespoons sugar
Ground Cinnamon
2 tablespoons melted butter
Extra sugar for sprinkling.
Preheat oven to 350°. Mix berries, granulated sugar, and lemon juice together in a bowl. Stir until well mixed. Set aside.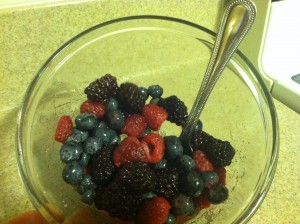 Lay out the dough and separate the pre-cut triangles. Stretch them out a bit to create a bigger surface area for you to lay the berries on.
Sprinkle the dough with ground cinnamon.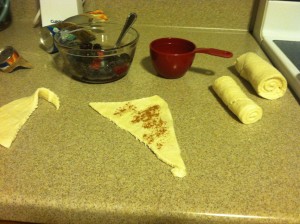 Place a couple of tablespoons of the berry mixture onto each triangle. I try to be sure I have variety on each roll.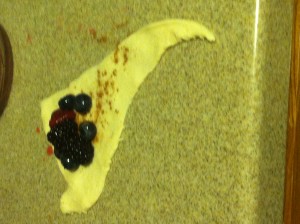 Roll up by folding 2 opposite triangle corners into the center, then roll toward the last corner. Press the dough closed to contain the berries. Sometimes they turn into a square!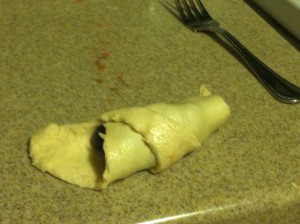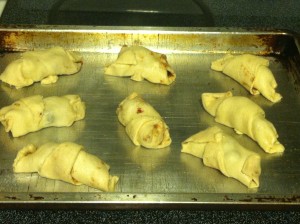 I baked mine for 12 minutes and then brushed with butter and sprinkled with sugar and cooked two more minutes.  My oven does cook hot though.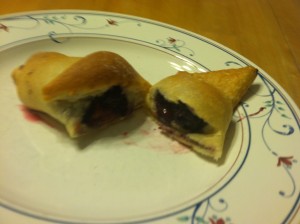 Rachel ate hers with whipping cream. Jonathan likes his plain.  I think they would be good with apple pie spice too.
This recipe is a version of one that I found at The Pescetarian and the Pig!  Don't you love that name? She used strawberries in her recipe.  Really you could use almost any type of berry.
Happy July 4th!