Happy Independence Day! Rachel and I have a tradition of making some kind of Fourth of July dessert every year. We usually make a flag cake but we have made a flag cookie and cupcakes.  This year I wanted to make a trifle. We have been working on cooking this summer and a trifle is a really easy dessert that looks gorgeous but is also yummy!  I took several different recipes and we came up with Rachel & Jawanda's Very Berry July 4th Trifle (recipe below.)
Some of our steps.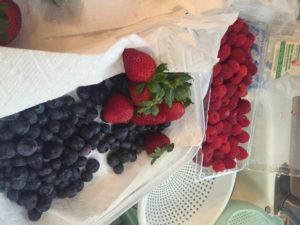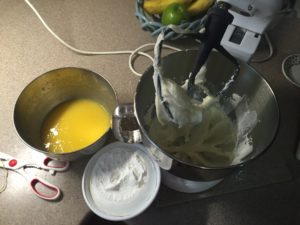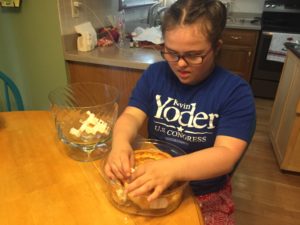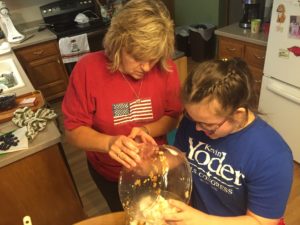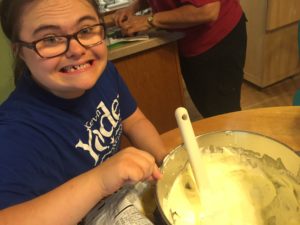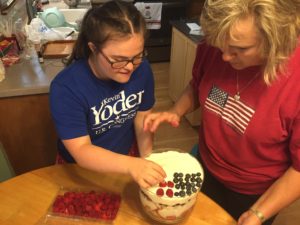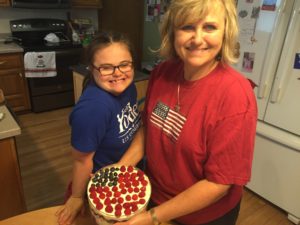 Rachel & Jawanda's Very Berry July 4th Trifle!
Ingredients
1 purchased or prepared angel food cake, torn into bite size pieces
1 small box instant vanilla pudding mix
2 cups milk
8 ounces cream cheese, softened
1 cup powdered sugar
1 8-ounce tub whipped topping
3 cups blueberries rinsed & dried (save about 1/4 cup for the flag)
4 cups strawberries, rinsed, capped and sliced
1 cup raspberries rinsed and dried
Directions:
Prepare vanilla pudding according to package directions. In a large bowl, beat the cream cheese on medium speed until smooth and creamy. Gradually add the powdered sugar and beat on medium until smooth. Add the prepared pudding to the cream cheese mixture and  mix on low. Fold in whipped topping with a spatula until color is even.
Spread angel food cake layer on the bottom of a trifle stand (mine was a wedding gift almost 27 years ago!) or a large clear bowl. Spread strawberries evenly over top of angel food cake followed by a layer of creamy filling.  Add another layer of angel food cake and spread blueberries on top. For the top layer, spread the remaining creamy filling.
You can decorate the top as you want. We opted to make a flag design with the blueberries and raspberries.
Similar recipe can be found at http://www.browneyedbaker.com/red-white-blue-berry-trifle/