Since we learned that Baby Rachel had Down syndrome, I must say our friends have been her champions. They have supported and loved us in many tangible ways. Along the way, we've added new friends who have also jumped on Rachel's Team. While living in Memphis, we had the opportunity to work with Variety Children's Charities and met the Tillman and Ferris families. They dedicated time and resources to children with Down syndrome and other disabilities in the form of fundraising and awareness. One day Chris Ferris and I were emailing about "The Wild Game Dinner Fundraiser" and I said, "Gotta go now. Buddy Walk duties to attend to." Her response was, "What's the Buddy Walk and can I help?" Of course, the rest is history because all friends get persuaded to join our efforts. I laughed when I read the email because she actually inquired as to how to help. I'm sure many of our friends would be hiding and hoping that I had forgotten them and their pocketbooks! Chris, a mover and shaker kind of gal, became one of the Buddy Walk's most dedicated volunteers.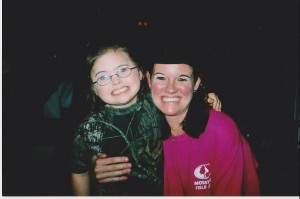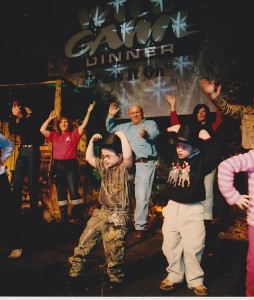 Seriously, many friends want to know how they can support Rachel and others with Down syndrome. Many of our best friends do not live nearby, but I have ideas regardless of where you live. Here are six ideas.
If you have a student at your school with Down syndrome, ask for your child/student to be in their class. If you are an educator, ask to have that student assigned to your class and work with the parents to make meaningful inclusion work. If you don't have a grade level peer with Down syndrome, maybe there is someone with another intellectual disability in your school and you could make that same request for that person.
Invite someone with Down syndrome to go to the Friday night football game, bonfire, homecoming dance, lunch, pep rally or other school events with you and your group of friends or family. Communicate with the individuals parents. And then, be responsible and watch out for them so their parents won't have to worry.
Walk in the local Down Syndrome Awareness Walk. There are Buddy Walks and Step Up for Down Syndrome Walks all over the place. I think of our friend Melina  (Bat Mitzvah – Just Like You) who has organized a team at the Chicagoland Buddy Walk (click here to join her efforts.) Go Melina and yeah for Down Syndrome Awareness! If you can't walk in one of the walks, make a donation in honor of Rachel or someone else with Down syndrome.
Support Down Syndrome Research by making a donation to the LuMind Foundation which is dedicated to research for individuals with Down syndrome.
Do you own a business? Consider being a sponsor for a Down syndrome walk or other event. I don't want to start listing names here because I will get in trouble! This is a great way to get your name out in the community and someone who cares and you can support a great cause. You might even organize teams or volunteers to be part of the event.
Share the Just Like You-Down Syndrome video with friends and not just on Facebook. Friends, civic groups, schools, church, youth organizations are all opportunities to educate and spread awareness. Several of Rachel's friends around the country have shown Just Like You at their schools. Many have no one at their school with Down syndrome but they wanted others to see their friend Rachel! Rachel and her parents consider that a great honor.
There are many other opportunities to spread awareness and support individuals with Down syndrome.  I hope you will choose one or more ways to support Rachel and others with Down syndrome.  Rachel would think that is "Super Awesome!" If you need more direction, contact the National Down Syndrome Society, National Down Syndrome Congress, or Down Syndrome Affiliates in Action. They can direct you to nearby affiliates or other efforts.