Along this journey, we have had some incredible experiences. We have met many remarkable people. One remarkable family is the Smith family. Sean Smith, dad, is a Special Education Professor at the University of Kansas. His expertise is technology, and he is considered the guru of technology by our families in the Down syndrome community.
Sean and I met when I attended a session he did here in KC and learned our kids with Down syndrome were about the same age. We have some of the same kind of thinking when it comes to inclusion. He also became friends with my husband Jonathan as they are both quite interested in technology and how it creates new possibilities for individuals with Down syndrome. Nolan loves baseball. Today, I wanted to share this blog about an experience Nolan recently had or maybe the experience the coach, the spectators or the other players had. When you have the opportunity to be a decent human being, sometimes you need to take it. And you might just see the bright side of things too. Thanks to Pine Tar Press and thanks to Sean Smith for sharing  the journey with our family and many more. Enjoy!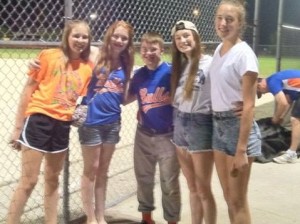 The Bright Side of Little League Coaching
There's a growing stigma attached to youth baseball. Overbearing parents who think their kid is the next Clayton Kershaw, fights with umpires, the theory of travel ball leading to no time off and, down the line, injury risk. There are multiple stories each year about some parent who gets out of hand watching kids play a game.
I help coach a 14U team – the Owls. They're a group of kids in a tough, competitive league with some state tournament contenders. Most of our kids are 13 playing against kids a year older and who use our weekly games as tuneups. Our kids try hard and have improved with every game. They don't give up. They keep a good attitude. Frankly, we haven't won a game yet, and it's tough to keep at it under those conditions. But they do it. I've coached a number of these kids for two or three years or more by now and have seen their development along the way. They want to improve and have done that. I'm proud of them.
But I'm not just proud of them for their improvements.
Here's a little story:
The last week of June, I woke up to an email saying that on Wednesday, we'd have a double-header to make up a postponed game, so we'd play at 6 that night and then again at 8. An hour later, we learned that the team we'd been scheduled to make up the game against wouldn't have enough players available to finish the season so we would win by forfeit, but the game wouldn't happen.
In light of that, an opportunity came up to schedule a game with another team (the Bulls) since we paid league fees with expectation of a certain number of games. The Bulls have been in the same league as us with most of the same players over the years. They're at about the same skill level as we are and we've played them fairly even every time.
So we played them that Tuesday, but it was on short notice so some kids weren't in town or available, so we only had seven kids. Our league doesn't allow an official game to count with fewer than eight kids (it wasn't going to be part of the schedule anyway, but we still wanted eight at least).
But we were already at the field and in uniform, so the Bulls' coach let us use some of his kids in the outfield all game with the idea of switching them out as their kids went to bat. That alone was a nice gesture, but our kids weren't so sure.
"What if they have a fly ball and just let it drop?" one asked.
We know the Bulls well enough to know they weren't going to do that and reassured our players.
So at one point, one of these Bulls players in our outfield was cheering on a two strike count and yelled "Hey, strike him out …" and turned to our center fielder, apparently asking the pitcher's name, then went back to "Hey, strike him out Reed!" One pop up settled into a Bulls-filling-in-as-an-Owl's glove. Another fill-in held a runner looking to round third. They played like they should have – to play well and right.
We scored some, they scored some. Where it gets murky on the score is because of a kid named Nolan.
Nolan has Down's Syndrome. He's helped the Bulls as a bat boy for about three seasons now. Shows up to every practice, every game. Cheers on the Bulls. Before the game, their coach asked if we'd mind if he put Nolan in the outfield when they were on defense with another player to help him. No problem. Nothing went his way but he was out there warming up before every inning.
Then we learned he wanted to hit. So he goes up there and our pitcher lofts a couple in but Nolan swings and misses three times. Our catcher let the ball drop off his glove though, and Nolan ran to first. The next Bull hit a grounder to third and our third baseman looked at second but threw to get the batter out at first, so Nolan's now on second.
Then a wild pitch, Nolan goes to third.
And a kid gets a hit, so Nolan scores.
Everyone in the crowd is applauding. He's high-fiving his teammates. We're cheering for him from our dugout.
Every now and then, you see a story about a kid in some town who was the team manager and get into a game. Think of Jason McElwain getting into his team's basketball game and scoring twenty points after being their team manager all season. Or Eddie Gordon, who had a similar experience last month. Or Teddy Kremer, Cincinnati Reds batboy, getting his own baseball card. They're always touching stories, but it's easy to detach from them (or maybe that's cynical me saying that). Great stories, but you never know how meaningful it really is for the kid at the time.
When the time limit was coming up, the Bulls asked if we'd send someone up to face Nolan on the mound. The game could have been called, but the umpires let us go on.
We got our leadoff hitter ready and told him what was happening. He asked "but what if I accidentally hit it?" I didn't really have an answer for that, but just suggested he make it a battle up there.
Nolan set up in front of the mound, peering in, and threw home. Ball one, high and wide. Next pitch, just about down the middle, called for a first strike. Next our hitter squares to bunt but pushes at it and misses. Nolan winds up for the 1-2 pitch and throws to the backstop. Next pitch goes high and wide again. The next one misses as well, but we weren't sending our hitter to first. He swung and missed at a high pitch, and I'll give him credit – he put a good swing on a 3-2 pitch, even if he was meaning to miss it. Nolan high-fives his catcher and we go to line up.
Nolan's run was the difference in the score. That one run. This game wasn't going to count in the standings so I guess we'll count it as a 4-3 loss. Best loss we've ever had.
At the end of the game, we do the handshake line, the "good game, good game, good game" thing. Nolan leads their line towards ours for that and he's BEAMING and bouncing around.
During the game we'd signed a ball and sent it to the Bulls dugout for them to sign as well. We even got the umps to sign it. So after the handshakes, our head coach's wife (who handles a lot of the communications, logistics, and keeps score) hands Nolan the ball, letting him know that we wanted him to have it, and that it was signed by everyone at the game. I was walking back to help pack up the gear, but heard him ask her "can I tell them thank you?"
She brought him by our dugout and announced that Nolan would like to thank us. At that point I was thinking he'd give one all-inclusive "THAAAAAANK YOUUUU!" or something but he didn't. Instead, he went up to each kid individually, shook their hand, and told them Thank You.
Looked each kid right in the eye and expressed his gratitude. Our guys told him it was fun, that he played great.
To pull a line from every Aaron Sorkin script, it was really quite something.
When Nolan turned to go back to his team, one of our kids said to another "we just made that kid's summer; that was pretty cool."
As our head coach and I were heading to our cars carrying the gear, we passed the Bulls' post-game huddle and heard their coach ask "Nolan, did you have fun out there?" And he answered "you bet I did!"
—
It's really easy to be snarky and say that kids need to learn to lose just as much as they need to learn to succeed. I'm sure someone might say this is the "everyone gets a trophy" culture, or will make some crack about stopping for orange slices.
Look. We want to win. Losing sucks. SUCKS.
But there probably aren't a lot of future big leaguers in this league. If there's one, it'd be remarkable. So while we're here, we can teach these kids to try hard, to trust their skills and preparation, and to respect their teammates and the other team.
In a year, or two years, or five, our kids might not remember the night the Owls beat whatever team we can defeat. But I'm sure they'll remember this night.
I know Nolan will.