I've been sending an email to a certain circle of friends every February 5 for 18 years now.  Thought I'd include all of you this year.
Dear Friends of Rachel,
Been thinking a lot this week about the difference 18 years makes.  Yes, you hear from me every year on February 5.  No, it is not Rachel's birthday. That is June 13.  It was 18 years ago that I brought my sweet husband home from the hospital where his colorectal tumor was successfully removed. I worked at Youth Villages for several hours that day.  I came home and received a phone call that would forever change my life. On that day, I couldn't see it but with God's supernatural help, I hope and pray that many lives are better because of our journey.
Yes, it was 18 years ago today that we learned Baby Rachel would be born with Down syndrome. Truly, I couldn't imagine 18 years ago that she would read much less tell us that Jim in Huck Finn was like Rosa Parks or  the characters in Hidden Figures.  I couldn't imagine that she would memorize lines from Shakespeare and be cast in Julius Caesar at her high school.  I couldn't have envisioned that she would meet Senators and Congressman and that they would call her friend.  I couldn't imagine her uninhibited, pure and innocent prayers. I couldn't imagine the depth of her loyalty to friends or her love for all things Hairspray.  I couldn't imagine all of the beautiful people we would meet on this journey.  Yet, here we are imagining all of that and more. High school graduation, proms and school dances, honor rolls, discussion of marriage and career paths and college visits.  I absolutely couldn't imagine that she would meet the University of Arkansas Chancellor and his wife and that she might get to be a Razorback. Or a Commodore. Or a Jayhawk.  And I couldn't imagine that I would be happy with any of those!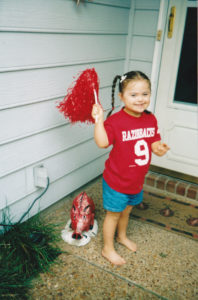 Some of you joined the Friends of Rachel train along the path and others have been with us since long before Rachel. Most of you have been there to love us and support us from the beginning of this journey. We are truly eternally grateful for you and your love and support through our crazy causes, fundraising, advocacy and more. We are grateful that Rachel has so many cheerleaders.
So 18 years ago there was a lot I couldn't imagine. Today, I still have a lot I cannot imagine. Then, I am reminded of these words from Jeremiah 29:11 –"For I know the plans I have for you," declares the Lord. "They are plans to prosper you and not to harm you, to give you a hope and a future."
We often laugh and say that Rachel has led a Forrest Gumpesque life. Jonathan loves the line from Forrest Gump that says, 'We won't look back and say we lived no humdrum life." Most of you would agree, there is no danger of anyone thinking Rachel has lived "no humdrum life."
We have a big year in front of us.  We look forward to sharing it with you.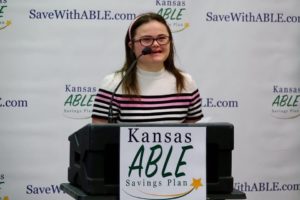 In 2011 I was honored to be chosen as one of 13 Faith Writers for the Kansas City Star.   My first feature was "A Glimpse of God's Grace,"  our story from February 5, 1999.  If you are interested in reading, this was the article I submitted in the original for –"A Glimpse of God's Grace."