Last week was Rachel's IEP meeting. I lost count of how many IEP meetings she has had at about 40. We've had a wide range of meetings. Some have been contentious. Some have been very long.  The IEP meeting to get her in general education kindergarten was four and a half hours long.  I think that was the longest. Regardless, they are always a bit anxiety producing.  I mentioned on Facebook that I always listen to Steven Curtis Chapman's "Fingerprints of God" before I go to Rachel's IEP meetings.
I can say that I have always believed that Jonathan and I did the best we could do to help Rachel maximize her potential. Sometimes it hasn't been pretty, and sometimes it has been smooth sailing. It has involved us drawing the line in the sand and sometimes it has involved negotiating and some give and take. We've done a lot of educating through the years, and we've shared our high expectations.  It has been a lot of work, and I believe it has been worth it.
When we started these meetings 14 years ago she was a tiny little three-year old girl, and we put together an All About Me booklet that I took to the local Kinko's and printed in color for all of the IEP team members.  We took an 8 x 11 picture of her and had it out during the meeting. I wanted the "team" to see Rachel as a person and not just another service recipient.  Even then we started with talking about where we wanted Rachel to be as an adult.  A few years later, Rachel started making appearances at her IEP meetings. Her daddy made a short video to go along with her greetings a couple of times. We graduated to PowerPoints somewhere along the way. Rachel now tells them all for herself who she is and who she wants to be.
She comes and presents an IEP version of her "I Love My Live" presentation. She doesn't want to stay for the whole meeting because she doesn't want to miss class so she leaves after her presentation and questions. Her IEP refreshes everyone's memories about her rich, full life. She talks about her classes, what she likes and what is challenging. She talks a lot about friends and how she loves acting and dancing. She talks about who she wants to be and her college road trip and that she wants to be a teacher and an actress or maybe work at a children's hospital. Oh, and somewhere along the way she wants to work at AMC Theatres. She has big dreams.
Then, we discuss some of the ways we get there.  Rachel will be a junior. Yes, that causes me to pause and reminisce, too. Now, we are much more focused on this thing called transition. But she is still a 16-year-old teenage girl who needs to enjoy these last few years of high school. What does that all look like?  It's a bit of a balancing act.
We have started thinking more concretely about that 18 – 21 and beyond. I feel ill-equipped for that next chapter of the journey but we're learning. We believe it is important to have concrete goals. She has a section dedicated to this in her IEP. She is working on her college road trip. While Rachel will continue to be included in general education and elective classes, she also has very practical math goals like balancing her lunch account. By the way, she does this with a calculator and does better than many adults I know.  Rachel told her team that she loves English but she hoped they didn't read so many sad novels next year. We all chuckled at that.
We are very excited for Rachel to be in the Early Childhood Careers program next year. She will be getting hands-on training by actually working a couple of hours a day at one of the district's developmental preschools. She is excited about this and so are we. For Rachel, it is almost like an internship.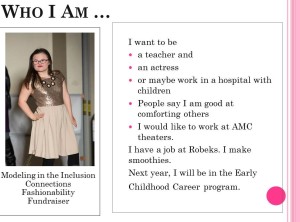 This was a good IEP meeting. I told Jonathan and several good friends that the people at that meeting really do love Rachel. More importantly, I really believe that everyone that was at her IEP meeting really has Rachel's best interest in mind. They are really trying to figure out the best plan to help Rachel become who she wants to be. They seem to share our high expectations and I can tell that has not always been the case. They listened to us, but more importantly they heard what Rachel said. They had good ideas. We came up with a good plan.  We came up with many questions that still need some answers. I do think our school system and others struggle with including students with intellectual disabilities in extra-curricular activities in a meaningful way. I am still disappointed that is still so hard to make all of that work.  It's a preamble to the struggles of adult living. We did not come up with a perfect plan. It is unreasonable to believe anything will be perfect.
In her presentation Rachel talks a lot about her life. She talks about how much she loves friends and dancing and acting. She talks about how much she loves church. In fact, she asked me to add "I am a Jesus follower" to a slide. During her last run through I had forgotten to add that in, and she scolded me. That is important to her and she wants it in there. It is in there now.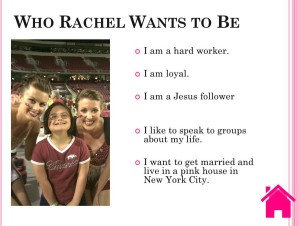 Pay attention and you will see what else is in still in there.
"I want to get married and live in a pink house in New York City."
Her dream. Her life. We had a good IEP meeting.
She loves her life.