Friday was professional day in our school district so Rachel had the day off.  We took it as an easy day. We worked on a Language Arts project, she practiced her lines for her CYT class, practiced her hip hop dancing for that class and I decided we would have a little kitchen practice. She wanted a hot dog for lunch so with a little help from mom she prepared her lunch.  We used the modern method and microwaved the dog. Reaching the microwave was her biggest challenge because my microwave is a built-in over-the-stove top unit.  We managed.  The other challenge is ketchup regulation. No matter how hard we try – we have ketchup overboard at meals!  Nevertheless she did a pretty good job of putting her lunch together. This summer we are going to dedicate one night a week to Rachel's Cooking Class. She and I are going to pick something for her to learn how to make. I'll keep you posted.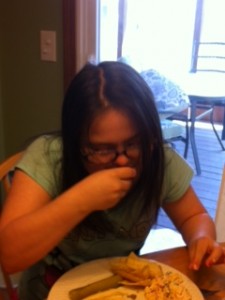 Part of yesterday's meal (made the day before by mom but could easily be made by Rachel) was a dip that I've not made before.  I've eaten it under various names from Arkansas Caviar to Southwest Caviar but I took the tile Cowboy Caviar. Rachel renamed it Cowboy Salsa!  She loves salsa and black bean salad.  While I'm at it, I'll give you her favorite black bean salad recipe, too. Enjoy!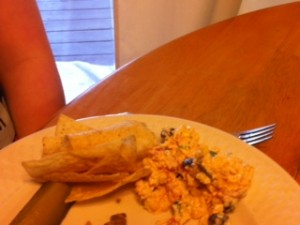 Cowboy Caviar
2  15 ounce cans fiesta corn drained
1 can Rotel type tomatoes drained
1 cup mayonnaise (light is fine)
1 cup sour cream (light is fine)
6 green onion chopped
1 can sliced black olives drained
1 tsp cumin
1 tsp garlic salt
2 cups shredded cheddar cheese (low-fat is fine)
Mix all ingredients together in a medium size bowl and serve. I let mine set over night. Serve with chips, celery, crackers or as a side.
Black Bean Salsa/Salad (By far Rachel's favorite side dish/salad)
1 cup corn niblets (I use a small can of Green Giant Mexi-corn or a can of Del Monte Fiesta Corn) drained
1 (15.5 oz.) black beans or pinto beans, drained and rinsed
 ½ cup chopped green onions, including tops
1/2 cup finely chopped fresh cilantro
3 Tablespoons olive oil
2 Tablespoons lime juice
1 teaspoon cumin
½ teaspoon garlic salt
2 Chile peppers, seeded, minced
In medium bowl, combine all ingredients; mix well.  Cover; refrigerate several hours or overnight to blend flavors.  Do not mix or store in a metal bowl