One year ago today, Rachel opened the first Kansas ABLE Savings Account. It was a BIG deal to us! Having advocated for the passage of ABLE for eight years and then three years after the federal law passed, Rachel had the great honor of opening the first account in her home state of Kansas.
I have three favorite pictures from that day.  Congressman Ron Estes (R-KS) who as Kansas State Treasuer helped us to get ABLE passed and implemented in Kansas, presented Rachel with a pink tool kit for her pink house.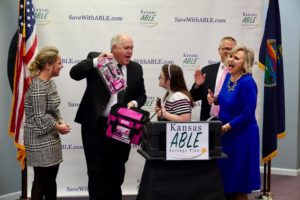 I love the pictures with groups of friends who supported us and helped pass the ABLE Act. We know we are the face, but there were many others who made this become a reality.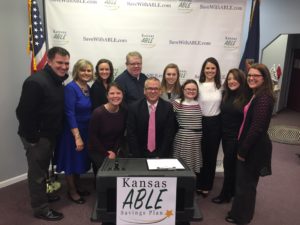 Finally, Rachel addressing the audience and thanking people for making this happen.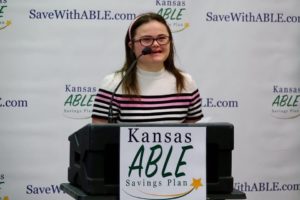 A year has passed  and we are saving in her account without fear of losing supports. We've had an exhausting year though.  That same picture was used often with this frame: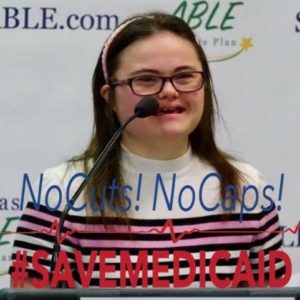 Rachel joined hundreds of thousands in making her voice heard and telling Congress #NoCutsNoCaps. We tried to do our part to #SAVEMEDICAID. That battle continues. Seems will always be advocating for something that needs saved, improved, introduced or that makes sense.
Last year on this day, I said that we were going to enjoy the day. "Then tomorrow, we will wake up and continue advocating for more public policies that will help individuals with Down syndrome really be able to pursue their dreams of living independent lives with jobs they love in homes of their own just like all other Americans."  It has certainly been quite a year as it feels like we barely get to take a breath when we are faced with yet another policy or change that may not be so good for people with disabilities.  That's how we roll!
Today, these memories can't help but make me smile. But if I'm honest, I feel a tinge of panic because I'm not sure what post-graduation looks like. I'm not sure of the path that will lead to that pink house.  We're working on it and have confidence that "He is ABLE to do more than we could ever ask or imagine" (Epheisians 3:20.) I needed these memories to make me smile because this week I feel more discouraged than I have in a while. I best take some of the advice Jonathan gives Rachel sometimes and "suck it up buttercup."
For today though, I know you will join me in looking at these pictures that cannot help but make you smile!
Next week, watch for my update on the ABLE Improvement Acts that passed Congress in December. 
The Stephen Beck Jr. Achieving a Better Life Experience (ABLE) Act (Public Law 113-295) was signed into law on December 19, 2014. The ABLE Act amends the Internal Revenue Service Code of 1986 to create tax-free savings accounts for individuals with disabilities. The funds in the ABLE account do not count toward the $2,000 cap on assets that is required to remain eligible for critical government supports. An ABLE account may fund a variety of essential expenses for individuals with disabilities including medical and dental care, education, community based supports, employment training, assistive technology, housing and transportation. You can learn more about the ABLE Act at http://www.ablenrc.org/about/what-are-able-accounts
Click here to open our Kansas ABLE Savings Account!