Today, 8th grade begins.  There is great excitement in the air at our house.  Last night, I wrote this note to Rachel and taped to her mirror:
My dear sweet Rachel,I know that your first day of 8th grade will be amazing and that your year will be totally awesome!  You are fearfully and wonderfully made by our Lord Jesus Christ. Rachel Nicole Mast can do all things through Jesus who gives you strength.     Love you more than a bushel and a peck.  Momma and Daddy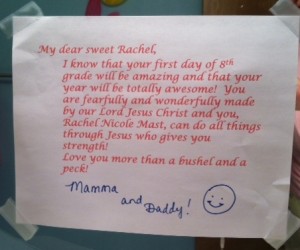 I did it in pink – of course.  She just read it and came out with a sweet smile and said "Thank you momma."
This week has been a mixed bag for me. We continue to respond to questions about the "cure" article.  We have had our own very personal discussion about the "cure" from Rachel's point of view. By the way when she came home yesterday from her WEB duties, she reported that the day was awesome, and "I did very well I think."  She was particularly proud that she was able to help a 6th grader who has Down syndrome. She took great pride in telling me all about it. As school years begin, I usually hear from quite a few people wanting to know about inclusion.  This year has been no exception. Of course, there is our own prep. Going over the schedule. Discussing the classes. Loading schedules on the iPad. Making sure everything fits in the backpack. It's huge.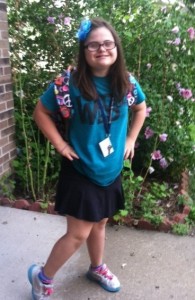 In the midst of all of this, my mind kept going back to Rachel's first grade year. Rachel's teacher was Mrs. Morphis. We didn't know until school started who would be Rachel's teacher. She had a reputation for being very strict. That's okay with me because Rachel needs structure or she cutes her way out of work.  This is an exert from a letter she wrote about Rachel at the end of school:
"Last school year, I had the privilege of having a special little girl in my class.  Rachel Mast was a first grader at our school and she was in my class.  To be honest, I was a little anxious about having Rachel in my class.  In the past I have had several students with "special needs," but I had never had a child with Down syndrome.  I knew a little bit about Rachel and her needs, but I wanted to make sure that I helped her grow both academically and socially.  Little did I know that Rachel would also help us to grow academically and socially.  Rachel had no trouble adjusting to the daily routines of our class and was very independent.  Sometimes she needed help with cutting or zipping or opening our door, but there was always someone (usually half our class) who jumped up to help.  We all quickly learned to ask Rachel if she needed help… she was very independent.  If she needed or wanted help she would let us know.  She also loved helping others.  We all learned that everyone needs help some time or another and everyone has "special needs".  Rachel taught us that we all need to be challenged in order to grow and become more independent.  (Did I mention that Rachel likes to do things by herself?) She taught us that, despite what others think, we can all do amazing things.  I am so proud of Rachel and of all her accomplishments.  She is an amazing little girl and I am so very thankful to have had the privilege of learning from her!!"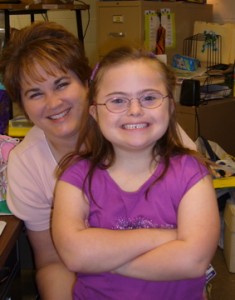 I was also room mom that year. If you can be the room mom or help with parties or volunteer at school, I highly recommend it.  Mrs. Morphis gave me a gift to thank me and told me to wait until I got home to open it. I opened this little picture frame (the photo is one I like of Jonathan and Rachel) with a note that said: "Thank you for sharing Rachel with me this  year. She is my most memorable student ever. This reminded me of her because it is pretty and pink and it sparkles."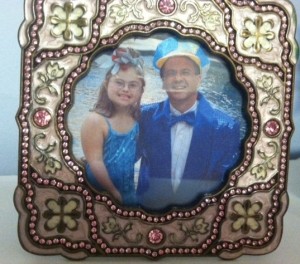 That frame sits on my nightstand as a constant reminder of the love of a teacher and the salesmanship of Rachel.  If given the opportunity, Rachel will learn and so will her teachers and the other students. New challenges lie ahead of us but I'm buying what Rachel sells.