For the past four years we have been working to get our Kansas Congressman and Senators signed out to the ABLE Act. Actually, I've been doing it longer than that but the first few years were focused on Tennessee.  For the past few years we have been visiting the Washington DC office of Senator Pat Roberts and in the past year began working with is local office.  Senator Roberts is on the Senate Finance Committee and his support would mean so much. And it would make us so proud to say that both of our senators and our congressman were signed on as co-sponsors. We stayed the course and continued to schedule meetings, thank staffers and reach out and make our case. The ABLE Act is a good act. We even used our not so secret weapon, Rachel and her pink house. Then, one day the call came. Senator Roberts had signed on as a co-sponsor to the ABLE Act!  I felt like we had won the lottery. I wanted it to shout it the mountaintops but really there were only a handful of people who could appreciate my excitement.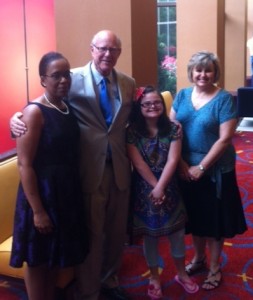 Then the next call came and yesterday we connected with Senator Roberts. We were able to meet with him and thank him and his staff for supporting this very important legislation, the ABLE Act. A few years ago in Rachel's innocence, she told one of Senator Moran's staffers that she wanted to live in a pink house. This was not news to me but it caught the attention of the staff and while kind of funny, it has become the symbol of her march to independence.
Rachel took a letter to Senator Robers with some pictures showing what she does and telling him how the ABLE Act is going to help her. She told him she hoped his friends would support the ABLE Act, too.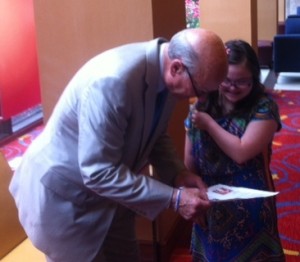 Senator Roberts read her letter with her and commented on making all A's and being in 13 plays. We told him how pleased we were with Olathe Schools and the great teachers we have had.  And of course she told him thank you because she wanted to live in a pink house.
Now for those of you who think  you are not important enough, we are living proof that you are important enough. Our weapons are perseverance, the power of the vote and perhaps most importantly a young lady name Rachel who makes it hard to say no. You may not have Rachel but you have the power of the vote so go on and call your Congressman and Senators now. Tell them that your friend Rachel wants to live in a pink house and she's depending on them to help her do it.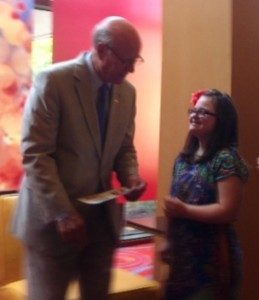 Thank you Senator Roberts.  We are one step closer to that pink house!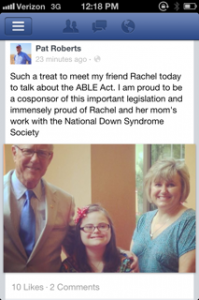 For more information on the ABLE Act, please contact Sara Weir, National Down Syndrome Society Vice President for Advocacy and Affiliate Affairs, sweir@ndss.org.