For some football? I am!  Here you all thought this would be some deep and philosophical debate about "curing" Down syndrome or the relationship between "maternal age and births of babies with Down syndrome." A girl has to have a little fun and the great love of my life (besides Jesus, Jonathan, Rachel and some family and friends) is college football.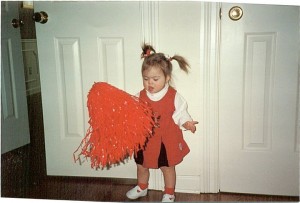 For me it begins in 30 days with the much anticipated kick-off of Razorback football season. We have a new coach this year. We had a new coach last year. I don't want to think about him or that season. Best to pretend it didn't happen.  Our new coach is Brett Bielema. When we heard his name, Jonathan and I and the national media wondered how many ways Razorback fans might butcher his name. So far – they are faring pretty well. As the season gets closer, quite a few people have been asking me what I think of our new coach. My answer is that he is currently undefeated and I'll let them know in six months.  That's not really true. He is undefeated but I think you have to give people some time to build their program.  He talks like a coach and acts like a coach. Now let's just hope he isn't fond of motorcycles!
WPS!  For the uneducated that is Woo Pig Sooie the beautiful cheer of my beloved Arkansas Razorback.  The countdown is on!