Like many of you I remember exactly what I was doing when I heard that the World Trade Center had been hit by planes. I was not at home and everyone around me was chattering about it but no one seemed to have good information. I remembered calling Jonathan and hearing him say, "It is true. Marsh & Mclennan (Sedgwick's Parent Company at the time) is in the World Trade Center. We're taking over their communications. I have to go." I remember coming home and turning on my television to the horrific images. I remember that I couldn't take my eyes away from the television for days, but I didn't want to watch anymore. I remember Rachel stopping each time she heard "God Bless America" and dancing and singing in front of the television. She was only two.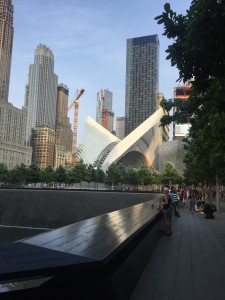 I saw the Twin Towers when we were in NYC to see Rachel's picture on Times Square for the NDSS Buddy Walk® Video presentation in 2000. In some of our pictures, you can see the towers in the background. I had been to Ground Zero on our trip to NYC in 2008. There was no museum, only a big hole in the ground. This year, we were back in NYC for Rachel's birthday. What a privilege it was to visit Freedom Tower with our friend and native New Yorker, Mr. Pete. Mr. Pete was in the Twin Towers on 9-11. He shared his story. We were moved and touched. Not just Jonathan and me but Rachel, too. In her way, she understood the importance and the emotion.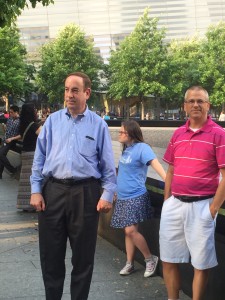 Our time with him at the fountain and the memorial was very moving. My time with Mr. Pete in his city that he loves and hearing his story much gave me a different and deeper view. We will never forget.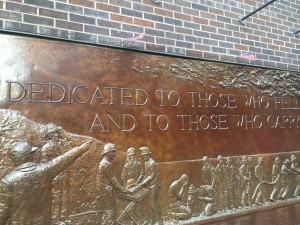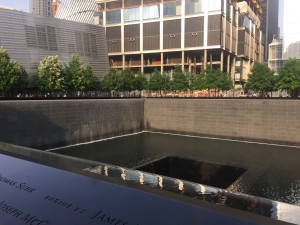 I find it a fitting tribute that this picture of Rachel and Mr. Pete was selected for the 2015 NDSS Buddy Walk® Times Square Video Presentation.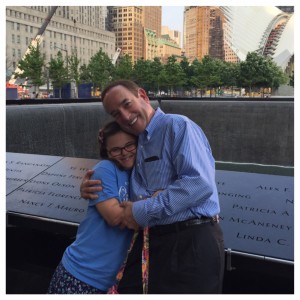 So earlier this week I was in Washington DC. As part of my new job duties as the National Down Syndrome Society Manager of Grassroots Advocacy, I needed to be in DC for some training and work. While there we had the opportunity to make some Hill visits. Then, yesterday morning I was able to attend the ABLE Implementation Roundtable hosted by Congressman Ander Crenshaw (R-FL). Our own Sara Weir, NDSS President, was one of those representing the disability community.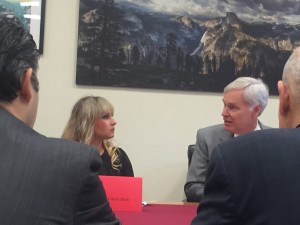 There was an impressive group of people including representatives from Treasury, providers, State Treasurers, College Savings Plan administrators, the disability community and of course legislators or staff from the lead sponsor's offices.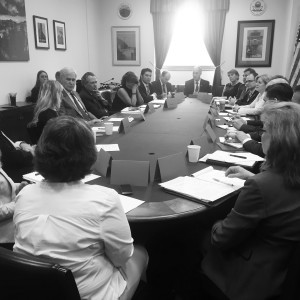 Senator Burr (R-NC), Congressman Sessions (R-TX) and Congressman Van Hollen (D-MD) all had staff in the meeting. Both Congresswoman McMorris Rodgers (R-WA) and Senator Casey (D-PA) were key leaders in shepherding this bill through to the end and both were able to pop in for part of the meeting. The discussion was rich and everyone seemed committed to getting the Stephen Beck Jr. ABLE Act implemented in sensible ways.
As I sat there, I couldn't help by smile to myself and I sent Jonathan this text: "Gotta tell you no matter how many times I'm here, every time I'm on the Hill with Congressmen and Senators and staff members, I'm awed that a girl from Rose Bud (actually Joy) gets to do this."
I will Never Forget. May none of us. God Bless America.