Rachel is celebrating her Sweet 16 in NYC.  "Wicked," "The Lion King," and much more on the schedule. It really does seem like just yesterday we were anticipating her birth.We had a prenatal diagnosis and she looked healthy on her ultrasound. The moment she popped out she screamed at the top of her lungs as if to say "Hello world! I am here and I'm going to sparkle." Then, I blinked and she is 16 years old.
In honor of her Sweet 16 I thought I would share 16 things I love about my Rachel.  They may or may not be in any particular order so pay attention!
I love that million dollar smile.                                 
I love the way she says"baby."  I can't imitate it. It's just the cutest thing ever.
I love to hear her read. Jonathan says the first time she read a book to him is one of his favorite memories. Me too.
Most of the time -I love that she has sass, but there are those days. She is "sassy gal in training" you know.                                                                               
I love her prayers. She is diligent and if she tells you she is praying for you she does. They can be so very sweet and telling.
I love her stage presence. She lights up a stage. I'm the mom. Go asked anyone who has seen her on the stage.
I love that she loves to dance. I am not a dancer. She has pure love for dancing and can often be found dancing in her room or the basement.   
I love her self-talk. It's a window to her soul and great for parental spying.
I love her laugh and sense of humor. She tries so hard to tell knock-knock jokes. She is fun and she is funny.
I love her loyalty. I know of no one who is more loyal to her friends than this one. Once you are her friend, it is forever. She's sees the best in people.
I love how she loves to sing and she sings with great joy. Yes, she sings off-key. She seems not to care in the least. Every time I have cringed when I heard her above everyone else in the choir program and I do mean every time, God sends someone and usually several someones to me to say, "I love watching her sing.  She has so much joy." True, she does make a joyful noise to the Lord.
I love her independence. At times I loathe it, but it will serve her well in this world.                                                                                                       
I love her self-advocacy. She loves to tell people I Love My Life. She tells people about her amazing life. She is a leader. She told me she wanted to have speech again because people don't understand what I say.
I love that she loves Jesus and that he created her perfectly the way she is and that she doesn't mind if people know that she is a Jesus follower.
I love her persistence and work ethic. Rachel has to work hard to do most things. She has to work harder than the average person to make good grades. She has to work harder than the average person to stay engaged in a group. She doesn't give up though. She has to overcome other people's low expectations and that is no small task . She goes for the gusto and has big dreams.
I love that she is mine and that God chose me of all the people in this whole big world to be her mom.  I have learned so much from her. I have learned so much because of her. She is easily the best teacher I have ever had.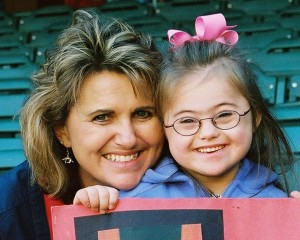 Happy Sweet 16th Baby Rachel!  I sure hope the next 16 don't go by as fast.