As promised last week, I wanted to follow up with our Step Up for Down Syndrome Walk from this past Saturday. It was a great day. It is always a great day when you have 10,000 people out celebrating the lives on individuals with Down syndrome. It is always a great day when you raise a ton of money that will impact lives of so, so many. It is always a great day when you invite a Congressman and he comes to your walk and brings along his wife. Just so happened their first baby is due in less than two weeks. They were both troopers.  They greeted people and were noticeably impressed with the largeness of life you felt on a day like Saturday. Rachel had fun and her joy and enthusiasm for the day radiated.  Each time a new friend joined us she lit up like a Christmas tree.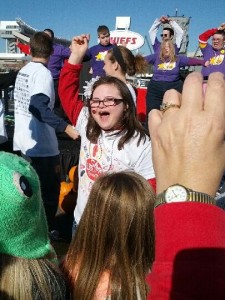 She understands that it is an important day. She took her job of introducing Congressman Kevin Yoder seriously and did a great job in her introduction.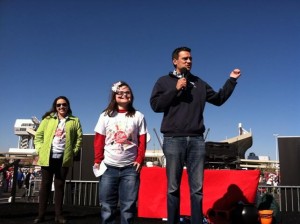 It was extra special that her MawMaw and Popie (my parents) were there to witness all of this. They really beamed with pride as they soaked it all in and saw her in action. While Rachel understands it is an important day, for her to be able to pal around with her buddies from church and school  – that is what is most important to her.
I tried to take a step back an soak it all in. Each time I saw a new baby or little one, I reminisce to my own prenatal diagnosis and those early years of therapies and putting the puzzle together. Each time I bumped into a family who I had met and talked to in their early days, I would smile.  It is such an honor and privilege to see how far people have come and think about how far we have come. I look at Rachel and her buddies (teenagers, infants, toddlers, children and adult friends) and think of what a difference her life has made for so many. Can't help but think of the people who have supported us every single time we have invited them to. I think of the people who apologize that they couldn't give more when I know it was a sacrifice to give what they gave, but they love Rachel and the love us. I can't help but think about my friend Lori Siegal. She loved the walk so much, and every time I go to a DS Walk or think of one – I think of her. She wanted to speak on behalf of people with Down syndrome. She is no longer with us on earth but she is still speaking.  Regardless of what the weather is like walk day is always a Sunshine Lori day for me. Her daddy has his own way of soaking it all in.
I always reminiscence of the fun, hard work, stress and euphoric feeling for helping with the walk in Memphis.  Together, we built something "amazing" as Rachel would say. None of our Down syndrome walks was built by one single person. Every walk has had a significant group of contributors from the three parents in Memphis who started a walk at a mall with 60 people to the staff of First Downs for Down Syndrome and the Down Syndrome Guild of Greater Kansas City who pulled off a walk for 10,000 people and raised about $500,000.  Everyone has a supporting cast. It does take a village to conduct a Down syndrome walk! I always think of the camaraderie we built in Memphis. In those earlier years when it was mostly women, we called ourselves the "Sisterhood." That sisterhood, all of Rachel's supporters, friends, donors, Buddy Walk committee members, executive directors, NDSS support personnel, walk chairs from around the country, event planners, sponsors, doctors who come running up just in time for the team pictures – all of those dot my memories. They make me smile and I too beam with pride.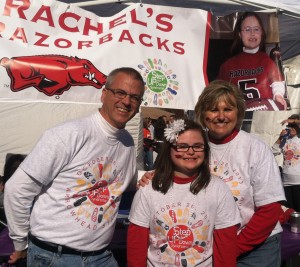 So for just a few minutes I soaked it all in, I beamed with pride for all we have all accomplished together.  Then, I remembered there is still work to be done. But for a few minutes I did soak it all in.