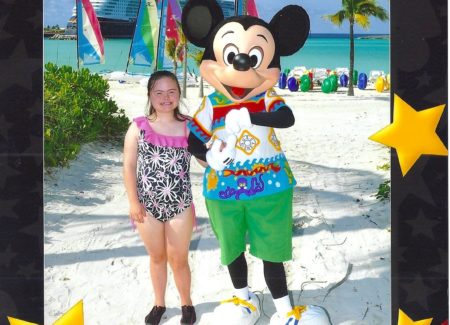 It's January and it's cold outside.  People are planning summer vacations and I have seen several friends inquire about vacation ideas. I realized that my blog about our vacation ever was done on my original blog host, and it didn't migrate over.  It's actually five days of blogs about what our family considers our best vacation ever. This was five, almost six years ago.  We often tie vacations to birthday celebrations and a Disney Cruise was the perfect way for Rachel to celebrate her 13th birthday.  Starting today, I'm going to re-post my thoughts and insights about our Disney Cruise experience.  Selfishly, it is fun for me to dream of beaches and sunshine, too. Feel free to post questions and I'll try to answer!
Disney Cruise Practically Perfect
Disney's Mary Poppins famously used the phrase "practically perfect in every way." That is the description I would use of our Disney Dream Cruise last week. We had never been on a cruise of any kind, and to say we all fell in love with it would be an understatement. One of the glorious things was no texting, emailing, phones or FB. As much as I use these modern amenities, the week was relaxing and practically perfect. Since blogging was not feasible, I journaled every day and this week I'll pretend we are on the cruise and post posts about the day. I'm a day late getting started so today is cruise days one and two.
Day 1
We arrived in Orlando on the Friday before the cruise and did Universal Studios with my college friend Maribeth and her family on Saturday. We had a ton of fun and Rachel and Maribeth's son Jared and forged a friendships.  Nickelodeon's Victorious was in concert at Universal that night so Rachel was in heaven. A little dancing with some Minions didn't hurt either.
Sunday (Cruise Day 1) it took us just a little over an hour to get to the Disney terminal so we were a bit early. When we did get in the luggage drop off line, the magic began. They took our luggage and told us how the process would work and where to go. We wore our swimsuits and cover ups and took a beach bag and backpack with iPads, DS, sunscreen, etc. This was a good move. The lines weren't very long and we were checked in and given our boarding number quickly. We received our key to the world cards which are your ticket to spending all your money, finding all your pictures, finding your eating places, etc. We met several families in the terminal waiting area, and when our time came we were introduced into the atrium with all the fanfare of a princess and her entourage. A buffet lunch was available on deck 11. However, we went straight to the Aquaduck water slide. Rachel and Jonathan were able to ride it twice and then do the Mickey slide while many others were looking for a place to change and were eating. Then, we gorged ourselves on the endless array of food.
Our room was smaller than I anticipated but efficient. We had chosen deck 8 near the main elevator and had a private verandah. We loved our room and our hostess, Dewi. We loved the verandah that gave us a little extra space and Jonathan took his binoculars and used them a lot on the verandah. The room was very quiet. Deck 11 holds the swimming pools (smaller than I expected), Aquaduck, Cabana's, ice cream and drink stations and more. So when we needed to take the stairs instead of the elevators, it wasn't too many flights up. Rachel checked out Edge, the tween club, and we met the counselors. They welcomed Rachel and worked out details for her participation. Edge is a come and go as you please club for tweens. We just wanted her to check with us before she would leave or to come and get her. The counselors were great. The elevators were rarely just overloaded but we took the stairs up and down to deck 11 quite a bit to save time but also for some exercise since we ate every hour.
The cast off party was a big hit with Rachel because it was the first of her week of dancing. She danced every chance she got and loved it.
Dinner that night was in the Enchanted Garden. Our servers were Alberto and Mr. Goosti. They were absolutely great and the family sitting with us for dinners had three daughters – one just a little younger than Rachel. They had been on many Disney Cruises so they were helpful and we really enjoyed them. I was extremely proud of Rachel at the dinners. She used her best manners and she ordered off the adult menu almost exclusively. Some of this was of course because she was about to become a teenager and she didn't want anyone to think she was a baby but a lot was because she is pretty adventuresome with food. She loves seafood so she tried some new things. She didn't like a few things and would politely tell the server. Disney's Magic appeared at dinner time as the servers would cut the kid's food if it was necessary. Rachel had ordered a chicken dish that would have perplexed me but Alberto came over and took care of it before Rachel had a chance. The girls all ordered Shirley Temples and every night Alberto brought them a big bowl of cherries to share!
We had to head to the family dance party after dinner.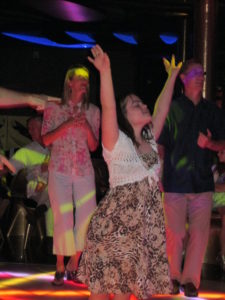 Rachel had to be the last one to leave so we had to scramble for good seats at the Villains Show. The other nights we made sure to get to the shows earlier. You couldn't take pictures during the show. I didn't need to take pictures of the show, but I would love to have taken pictures of my daughter's face. No marketing professional and no banker could create that joy, and I knew that it was worth every penny! This is a bit long so I'll save day two for tomorrow's blog.
Tip of the day: Don't forget your air freshener. The bathrooms just have a distinct odor no matter how clean they are. I forgot to bring any so we resorted to bringing an orange to the room every day and peeling it in the bathroom.