Rachel's birthday is later this week.  You may know that already because Rachel loves birthdays and especially loves her own birthday. She plans it year round.  A few years ago we celebrated her 13th birthday on our Disney Cruise. On her actual birthday we did the Dolphin Encounter and she played with the dolphins.  Yes, that is TheSassySoutherngGal's cover photo. Why they don't use that for all their publicity shots is beyond me.  Anyhow, when she and her daddy climbed out of the Dolphin area she looked at him and said, "What are we doing for my birthday next year?" He is quick-witted and said, "We're going to Cracker Barrel."  This is one of my favorite pictures of her from a birthday. It was her birthday dinner on the Disney Cruise. She thought they had forgotten her but they saved her for last. We think this picture tells the story and made the Disney Cruise worth every penny.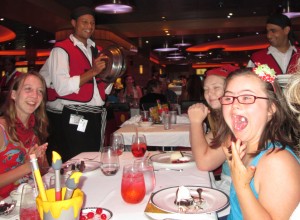 We have what I think is a pretty cool tradition for Rachel's birthdays.This is not an original idea, and I don't remember where I found but thank you person! Every year we get Rachel a special book and each of us writes her a letter about the year.  This is a picture of some of the books. They are books that were special to her for some reason, ones that we like, were popular that year or are classics. For example, a few years ago we gave her "The Little Princess."  Recommended by a dear friend, it is a classic. Last year, we did "Les Miserables." It is the lone paperback because we wanted one that would be easier for her to read. She saw Les Mis and loved it. Never would have guessed that but she still talks about it. She was very impacted by Fantine cutting and selling her hair. That was partly because she associates Anne Hathaway (Fantine) with Mia from "Princess Diaries."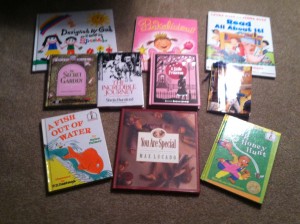 For her first birthday we gave her "You are Special" by Max Lucado. One of my all-time favorite books and one I give to children and adults alike because it tells a beautiful story of love and belonging. I love it long before I had Rachel, and that seems perfectly fitting. I won't re-write the full text of what I wrote on her first birthday here, but I do want to share my final few lines. "Before you were born, I often told you that I didn't know what to expect. You were probably thinking that we weren't exactly what you were expecting either. But you are better than my wildest expectations. I tell you quite often than you are better than I ever imagined, and you are.  I love you my baby Rachel.  Happy 1st Birthday. Love you always and forever, Mommy."
And she still is 15 years later!