Saturday morning I awoke and thought "what to have for breakfast?" I had some blueberries to do something with and crescent rolls. I have some recipes using those but I wanted something new so I went to the internet.  I found Blueberry Cream Cheese Pies in various versions. I chose the Kraft version.  I had all I needed to make those! A fridge staple at my house is crescent rolls. They are versatile and can be used for so many things. With blueberries in them, they must be healthy – right?  Jonathan was gone on one of his "runs." A mere 10 miles that morning. Hoping Rachel would sleep late so I had time for my cream cheese to soften. This is the finished product.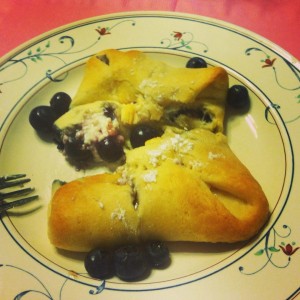 Received Jonathan & Rachel's Seal of Approval. Very easy and I suspect you could substitute other berries if you wanted. Enjoy!
Blueberry Cream Cheese Pies
1 pkg.  (8 oz.)
refrigerated crescent dinner rolls
4-oz. (1/2 of 8-oz. pkg.)  Neufchatel Cheese, softened
1/2 cup  blueberries, divided
Preheat oven to 375ºF. Unroll dough into four rectangles. Press perforations together to seal. May need to wet your fingers. Combine Neufchatel and 2 tablespoons sugar.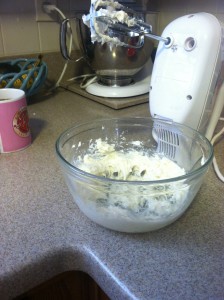 Spread onto dough rectangles to within 1/2 inch of edges. Mix together blueberries and 1 tablespoon sugar. Top evenly with blueberries. Bring opposite corners of rectangles together; press together to seal. Place on greased baking sheet.
Bake 11 to 13 min. or until golden brown.
They come out very warm so cut into them with caution. I used reduced fat Pillsbury crescents. They work fine but do not pinch together as well as regular ones.
In fact they are so yummy, Rachel is having one as a leftover for breakfast now, and she is eating it off of her Veggie Tales plate! I believe Madame Blueberry would approve.