By now many of you have heard about the new reality show "Born This Way."  The synopsis is – "Born This Way" is  an A&E Original six-episode series featuring seven people from Southern California as they pursue career goals and romantic relationships, form friendships, overcome obstacles and make their way in the world. All seven have Down syndrome and their parents are also part of the show. It was just renewed for a second season. If you are part of the Down syndrome community, you have noticed that the show is the subject of a lot of social media chatter.  Many people have been asking me what I think of the show.
So I'm going to issue a disclaimer. One is that I do not like reality television. Period. I rarely watch reality shows. I have watched some of the episodes of "Born This Way." I am familiar with some of the actors/actresses and their families.  While Jonathan and I were watching the first episode Rachel emerged from her girl cave which is all things Disney, Nicolodeon, dancing, playing her music and YouTube videos.  We invited her to watch with us. The episode was already on. She said, "They have Down syndrome like me!" She went on to inquire about the show.  She watched 10 minutes and declared it was time to go get ready for bed.  She did stop to tell me that I was like one of the mom's on the show. Many people are asking Rachel if she watches and what she thinks of the show. In anticipation of her own Disney career, Rachel would much prefer the girl cave offerings than "Born This Way." That's fine.
During the Christmas break I took a group of Rachel's friends on a little outing. As were were driving to our destination one of Rachel's friends, Hanna, asked Rachel if she had been watching "Born This Way." Rachel said not really and Hanna said she had been watching it. She proceeded to tell the girls all about the show and remarked that she loved it. She encouraged them all to watch.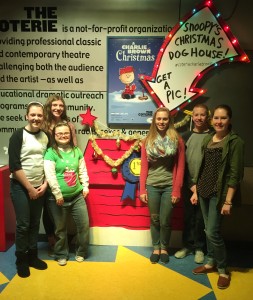 So I said why Hanna? This was Hanna's response.
"I think everyone should watch it because it shows that people with Down syndrome are just like the rest of us. It shows that they have emotions and how they feel. I think it's awesome."
I then asked Hanna if she would mind sending her thoughts in writing. I just meant a blurb but this is what she sent:
I think Born This Way is extremely important to today's society because it shows a new side to reality TV that no one has seen before. Because the story line follows people with Down syndrome, it makes every detail much more raw and genuine and it opens up a side of humanity that people need to see. One key point of Born This Way is just because you have Down syndrome does not mean that Down syndrome should be the label that follows you through life; everyone has their weaknesses but Down syndrome is not one of them. You are who you are because of your talents and strengths not because of your disabilities. In my mind everyone needs to be watching this show because of the lessons that are taught by looking in on these young peoples' lives. It's how they overcome obstacles like first dates, marriage and getting a job, that really make Born This Way something that everyone can relate to."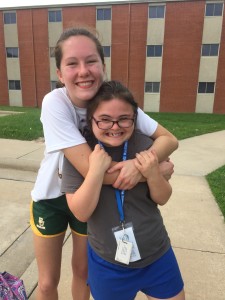 Then I asked her to put that in perspective as related to her friends with Down syndrome. Her response:
"Having friends with Down Syndrome is something I wouldn't trade for the world. I value their opinion more than most other people and have had some of my best experiences with them. I don't think about whether my friends have Down Syndrome because it doesn't matter; I love my friends because of who they are. I believe that it is important to surround yourself with people that are different than you because you better yourself as well as exposing yourself to new experiences. I have been watching Born This Way for the past couple weeks and because of my friends I have had a different response to the show than people who don't have friends with Down Syndrome. The problems that are highlighted on the show have become more real to me because I can see these same things happening in my close friends and I am now better equipped to help them through the challenges of life."
That's enough for me.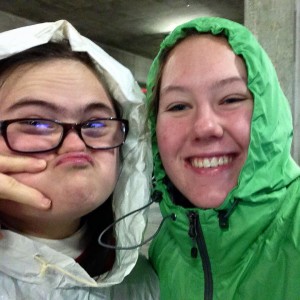 NOTE: Hanna is one of the young ladies in Rachel's Sunday School class.  Rachel's best friends are the girls from our church. It is a really great group of girls. We are #blessed.