This week I had the opportunity to take dinner to some friends. The Mom had surgery on both feet.  I love taking meals to friends in time of need.  I did a bit of an Italian theme and made some garlic breadsticks.  I make these breadsticks often and when people see and learn how I make them, they are intrigued. Like most of my recipes, I can't take credit for inventing these.  Early in our marriage Jonathan and I visited in the home of some dear friends who had a large extended family, and they made these. That was about 22 years ago.  They are ageless, easy and  inexpensive. The fact that you use leftover hot dog buns to make them assists with efforts to not waste food too. I serve them as breadsticks and have also used them to make croutons. One of my very popular breakfast casseroles calls for croutons so I just make these.  Frequently, we have hot dog buns left over. You know they never taste quite right after they are frozen. I toss mine in the freezer and then get out as many as I need to make these famous breadsticks.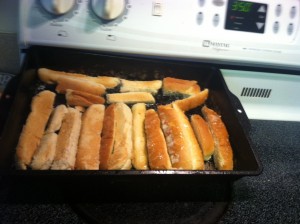 Here's how mine work:
1/2 cup butter, melted
1 tsp garlic salt
4 hot dog buns, frozen or thawed
2 Tablespoons shredded or grated Parmesan cheese
Preheat over to 425 degrees. I melt my butter in 9 x 13 pan. Metal works a little better than glass – I use my very seasoned, old cake pan. I then add the garlic salt to the butter and mix it.  I quarter the hot dog buns lengthwise while still frozen. I think it's easier but it will work if they are thawed. Then, gently place the bun quarters in the butter and turn them a time or two to coat.  Bake about 7 minutes and turn them. When I turn them I sprinkle with Parmesan. Depending on your oven and how crisp you want them, cook about 5 more minutes.  Presto – irresistible garlic breadsticks. For croutons I either chop these up or I go ahead and cut the breadsticks into smaller chunks and toss. I have used more buns and not increased the butter. About six buns would be maximum fit for your pan.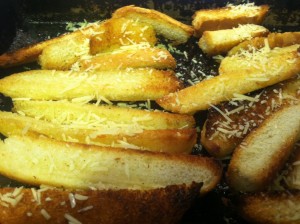 I hope some of you will let me know how you like them!