This year I was surprised to be honored as National Down Syndrome Society's (NDSS) Ambassador of the Year. If any of us are honest, it always feels good to get an award.  It is nice to think that you are doing something that matters and that someone noticed. It's also embarrassing. Embarrassing I say because I look around me and I think through the past and realize how small what I have done is. When I consider the sacrifices so many have made, there just are no words to describe how humbled I am.  I am just doing what I believe I'm supposed to be doing to make a difference. Reese Witherspoon said when she accepted her Oscar for her portrayal of June Carter Cash in "Walk the Line,"  "I'm just trying to make a difference."  That sort of describes my thinking but truly I am trying to work together with others to create a world where individuals with Down syndrome and other disabilities can live real lives.  Period.
I believe in the "to whom much is given much shall be expected" reference. While I believe it is a reference to material wealth, I think that just as importantly it is a reference to our actions. Therefore, long before Rachel ever came along I recognized that the world is filled with people who can't, won't or don't and those of us who can and do.  I can sit around and grumble about the ones who won't but that won't really get us where we need to go.  My life experiences have helped me to understood that some people just can't.  I often refer to my time growing up in White County Arkansas.  Who knew that 35+ years ago what I learned as a 4-H member would be used to help people with Down syndrome?  I didn't even know anyone with Down syndrome. What I do know is that the skills I learned about the political process and the belief that was set forth in me that I was a part of a democracy where I had a voice all trace back through those 4-H days and my rural roots.  I have been given much and I will have to answer for that.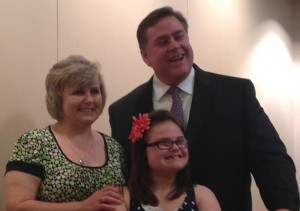 I also know that awards allow us an opportunity to create more awareness and more education.  Just this week the Mayor of Olathe (where we live) invited us to the City Council meeting. His staff had made him aware of the award and he wanted to recognize us. Really, I think they just wanted to see Rachel again.  She and her dad were there a couple of years ago when the Mayor declared it National Down Syndrome Awareness Month.  I wasn't there but she was poised and entertaining and from time to time I hear from one of the council members or the Mayor's office checking on Rachel. So she was front and center with me again this week. After all, this is about her and her pink house! You know what happened while we were there? We wrangled an invitation to show the Just Like You – Down Syndrome video at the Disabilities Sub-Committee and Rachel and Savanna will come along to answer questions. Probably wouldn't have happened if we had not been invited because of an award.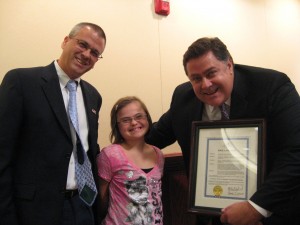 When we met Senator Moran and thanked him for co-sponsoring the ABLE Act, he said something very important that perfectly describes my feelings about being named Ambassador of the Year. He said, "You're welcome. But if we don't get this bill passed it doesn't matter. What can I do to help?"  Do not interpret this as my not being appreciative, honored, surprised, overwhelmed and humbled. I feel all of that.  Like Senator Moran though, if we don't get the ABLE Act of 2013 passed it really doesn't matter.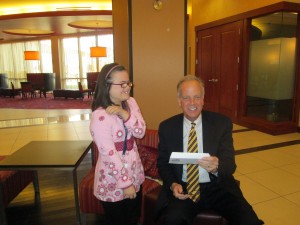 So let's get it done.
Pass the ABLE Act!