I love the NDSS Buddy Walk®. Celebrating is an important part of living. I know of no other tool that has opened more doors to celebrating and making people aware of the lives and abilities of individuals with Down syndrome than the Buddy Walk®. Ultimately, the Buddy Walk® has helped to change the landscape for individuals with Down syndrome.
I had the great honor of chairing and leading a little Buddy Walk® down in Memphis. I have the fondest of memories.  Yes, there were plenty of headaches. There were a lot of inside jokes. There was a lot of exhaustion. At the end of the day though, we had a group of people committed to making a difference for people with Down syndrome. We had an amazing group of individuals who came together and made sacrifices for something bigger than each of us as individuals. I will always be proud of the work we did in Memphis and the Mid-South.
Every year when we looked out over the sea of people, we were overwhelmed in the best sort of way.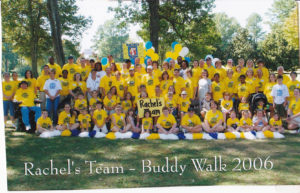 It was amazing to see that all these people, volunteers, sponsors, elected officials, educators, family members and friends were all there to celebrate and embrace the lives of individuals with Down syndrome. We didn't do it for that day though. We did it for the impact we hoped it would make. We did it to build an organization that could serve individuals with Down syndrome and their families and we knew that one day, there would be benefits like sponsors employing individuals with Down syndrome.
I have pages of memories and favorite moments, but today I want to share just a few of my favorite Buddy Walk® memories.

Self-Advocate Lori Siegal serving as co-chair of the Buddy Walk®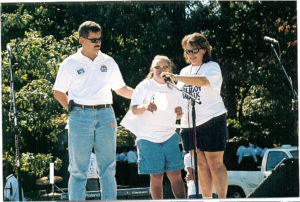 Alyson Edwards making iced tea
Securing our first $2,500 Sponsor and it was my husband's employer, Sedgwick. They continue to support individuals with Down syndrome.
Launching the "Imagine the PossABILITIES" Advocacy Tent
Online registration becoming a "thing"
My pastor and his family squeezing in the Buddy Walk® on a day when he preached two morning services and hosted a mission fair. I told him I didn't expect him and he said, "I know how important this is to your family and our community." It became an annual affair for them.
Radios
My own Sunday School class coming out in force and taking on the role of cooks and coordinating the food area for a few thousand people
My PIC Rock (Partner in Crime)
Dancing to Hannah Montana with Rachel. You always have to take time to enjoy the moment. And Radio Disney was a super partner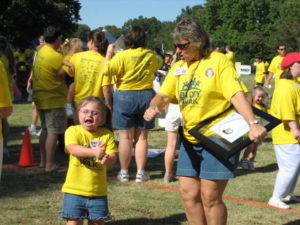 Standing next to Congressman Steve Cohen (D-TN) as he looked out over the sea of people and said, "I had no idea this many people came to this event."
Hearing Rachel's ENT yell, "Wait for me I'm here" as he ran up at the last-minute to be in her team picture
Rolling 10 million shirts. Well, it seemed like it 10 million
Deep and meaningful friendships and connections
Many groups around the country have similar stories. I don't know if they rolled 10 million shirts but all that other stuff! Though the intent of the Buddy Walk® was education, acceptance and awareness, I suspect the visionaries who started the Buddy Walk® knew it would be a fundraiser, too. I don't think anyone knew the impact it would make.
As Buddy Walk® events have grown and provided income for local groups, groups have been able to extend outreach, training and education. Local affiliates have been able to create and provide quality, professional looking materials. They have more resources to send people to conferences and host their own conferences. Through the partnerships with the local affiliates NDSS has been able to strengthen the NDSS National Advocacy & Public Policy Center and impact real policy change. The Buddy Walk® was the trigger that has made it possible for groups to truly reach more families, educators, healthcare professionals, employers, sponsors,  individuals with Down syndrome, community leaders, elected officials and so much more.  The Buddy Walk® has been the conduit for change and has changed the face of Down syndrome community.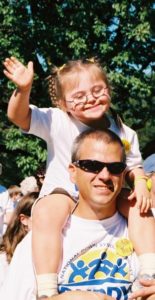 This Saturday the 22nd Annual NDSS New York City Buddy Walk® will take place in Central Park.  One of the coolest parts of the NYC event is the Times Square Video Presentation. The special video presentation is seen on the jumbo screen in the heart of Times Square. The video begins at 10:00 AM ET and will be shown on the ClearChannel (1567 Broadway – W 47th Street and Broadway). If you are in New York City, please check it out and you will see hundreds of individuals with Down syndrome on the big screen. This picture of #FutureVandyGirl Rachel will be among those hundreds of photos.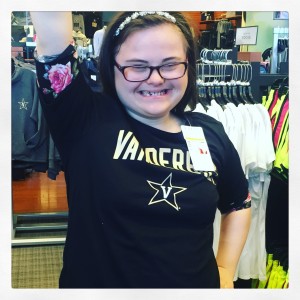 You better believe there's a lot more work to to do. Today though, as I reminisce about days gone by, how far we've come and take a look at this picture which is "arguably the best Buddy Walk® picture ever taken," I'm going to celebrate the lives of some pretty remarkable people who just happen to have Down syndrome. Won't you join me?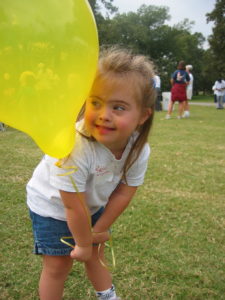 The National Down Syndrome Society (NDSS) established the Buddy Walk® program in 1995 to promote acceptance and inclusion of people with Down syndrome and to celebrate Down Syndrome Awareness Month in October. The name Buddy Walk® promotes inclusion between friends of every ability. Since 1995, the Buddy Walk® has become the premier awareness event for Down syndrome in the United States. It is also the world's most widely recognized public awareness program for the Down syndrome community. Find a walk near you at this link – Find a Buddy Walk®