I interact with and pray for people who have kiddoes with Down syndrome who I will never meet and who I do not now know.  I have been given the great honor and privilege to be able to visit new families of babies with Down syndrome in the hospital and in their homes.  It has also been a great honor and privilege to walk beside them following surgeries, to sit with them and hold their hands when the doctor gave them really difficult news and really happy news.  I have stood beside them at funerals and even had the greatest honor of sharing about my friend Lori Siegal at her Going Home Celebration.  As I have mentioned I have never met Baby Arabella's family, but I feel such a connection to them because her momma is from my little bitty hometown of Rose Bud. She is significantly younger than I am but we know many of the same people. God saw fit to give us both precious little girls with a little something extra.  Her little something extra has included a long bout in the hospital and a serious heart issue. My little something extra didn't include that serious heart issue. God has seen fit to allow us to come to know one another via cyberspace. I am thankful, honored and privileged to be able to pray for them and give them support in this way.
Perhaps today and this week I am thinking more about my blessings because of Arabella and because of my friend Peri.  Peri has a son with Down syndrome. She is one of my blessings through Down syndrome because we met when he came along.  Peri has been sick for a while with cancer. She's not so good right now.  Her attitude and gratefulness would make you think she had just won the lottery. Please pray for Peri. She and her family need you to stand in the gap for them, too.
Perhaps today I am thinking more about my blessings because it was one year ago today that my healthy girl had missed her 8th day of school and was admitted to Children's Mercy South with bacterial and viral pneumonia. Other than some ear infections and her allergies (thank you Mommy Mast for sharing those with me!), Rachel has been remarkably healthy.  Rarely does she miss school. Her fever kept spiking up above 104 degrees. She pronounced "I look awful mommy."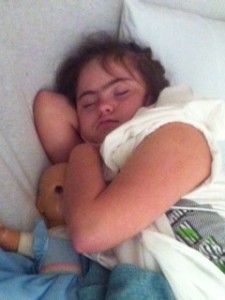 When we went to the emergency room and were admitted to the hospital, I thought we'd be there for a day or two. Twelve days later we came home. I look back and see some of the ways God used Rachel. He always does.  The doctors kept asking me about O-stats like I knew what that was or something. I know now.  They seemed more baffled by the fact that Rachel had never been in the hospital than the fact that she had pneumonia. They kept talking about how it is sometimes difficult for people with Down syndrome to "get off the oxygen."  We didn't quite get that in the beginning. We just thought we'd say, "Rachel – get off that oxygen" like you tell her to do her homework. Now, we get it.  They kept talking about some mysterious "ID" doctor.  The only reason I knew what that was is because I watched House. I started wondering if Dr. House was the ID (Infectious Disease) doctor because I never saw this person and I don't believe this person ever saw my child until I basically demanded that I speak to this person. Then, I got several visits. The ID doctor was much nicer than Dr. House and if you are going to be in the hospital, Children's Mercy is like the Disney of hospitals.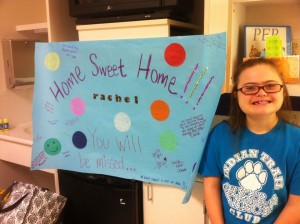 So today I am feeling blessed. Blessed to have the privilege of praying for and sharing life with so many of you. Blessed to live in a place where my daughter receives the most excellent healthcare.  Blessed that she has been healthy most of her life and that except for one sinus infection a few months back, she has not been sick since leaving "that hospital," as Rachel called it, about a year ago.
I am blessed. This is one of my favorite songs about being blessed.  "Lord for all the worst and all the best, I am blessed."  Hope you'll click and take a listen.  "I am Blessed."