This Saturday, March 21 the world will celebrate Rachel and all the other earthlings who have an extra 21st chromosome. World Down Syndrome Day (WDSD) is a day recognized by the UN, countries and organizations around the world where we celebrate the lives of individuals with Down syndrome. It is March 21 every year. March, the third month, symbolizes the three copies of the 21st chromosome and the 21st day represents that 21st chromosome. This is scientifically what causes Down syndrome. A person or their parents do nothing to cause them to have Down syndrome. The creation of the triple copy of the 21st chromosome happens at conception. Individuals with Down syndrome are not defective, afflicted or suffering. They are people just like you and me and created perfectly the way they are supposed to be. It's who they are!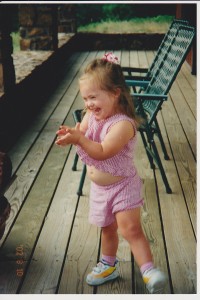 For #WDSD15 organizations have come together to do some different activities to shine a bright light on the abilities and worth of those with Down syndrome. I mentioned some of these in my blog about Random Acts of Kinds for WDSD15 last week.  Each year, I try to give friends, readers and others some ideas for ways to bring awareness to the abilities of those with Down syndrome. There are many ways you can support Rachel and others with Down syndrome.
If you are interested in donating money as a support mechanism, you have choices. Today, I'm promoting two. The past few years on March 21st I've told you about Down syndrome research. This year is no exception. You can click here and learn about the cutting edge research through the LuMind Foundation. Want to stretch your money? The deserving LuMind Foundation has a match going on through Saturday. Any donation you give will be matched 3:1. So if you give $21, it becomes $63.  If you give $100, it becomes $300. You get the idea. LuMind is world-class research and always needs more money. Improved cognition and links between Alzheimer's and Down syndrome are just two of the exciting areas they are impacting.
Another option for those who want to support Rachel and others with Down syndrome financially is to support Rachel's NDSS Your Way "I Love My Life" campaign. We are a part of the National Down Syndrome Society's (NDSS) ambassador program. Most of our advocacy efforts are in conjunction with NDSS. Advocacy is so important. Think about the difference the ABLE Act will make for Rachel.  NDSS was one of the lead organizations on the ABLE Act and instrumental in its passage. So we would love for you to support their mission to be the national advocate for the value, acceptance and inclusion of people with Down syndrome.
If you are not able or interested in financial support but want to do something, these are just a couple of other ideas:
Share the Just Like You – Down Syndrome video or another awareness education video on social media or email it to friends and educators! Of course, this is my favorite video!
Participate in a Random Act of Kindness
Commit to volunteering for a Down syndrome support organization or another organization supporting those with intellectual disabilities.
Become friends with someone with Down syndrome. If you are a teenager or college student, invite them to a movie or lunch or to do something fun.
The sky is the limit in ways you can help us spread positive public awareness about Down syndrome. Be imaginative. Be creative. Be respectful. Be involved.
I posed this Facebook question, "What is one thing you want people to know about Down syndrome?" Rachel's response, "We are amazing and I love my life!"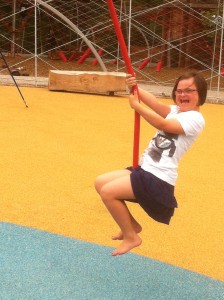 Celebrate Rachel! Celebrate life! Celebrate Down syndrome!
Happy World Down Syndrome Day 2015!