I realized I haven't posted a recipe in a while so on a cold day, I have one to share with you. I know I posted this on my former blog site but many of you probably missed it. We call this Chili Verde. The original recipe came from Jonathan's cousin. Of course, I've changed it a bit. Every time I cook something is a new adventure because I may try a different meat or adding beans or something. I'll post the standard recipe and also tell you the changes I made this week. My husband Jonathan is not a huge fan of soup so when I find one he likes, I make it. I am more of a cold-weather soup gal. Now that the temperatures are dropping, I think it is soup weather. This was quite popular last night when it was not even 30 degrees outside!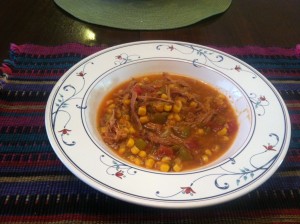 As I said, the standard recipe is below. Last night's dish started last week when I cooked a Boston Pork Butt in my crock pot. I just season with Emeril's Southwest Seasoning and then rub olive oil on it.  I lined my crock pot with a slow cooker liner (these are one of the best creations ever) and placed the butt in the cooker. I covered and cooked on high for about four hours. Then, I turned the butt, added sliced onions and a little bit of liquid smoke, reduced the heat to low and cooked for five more hours. You can follow the recipe and it turns out just as yummy! That night we had pulled pork sandwiches for dinner.  We ate on the pulled pork (I should say Jonathan) for a few days. Then, I divided the leftovers in half making sure to capture several cups of juice and froze them in freezer bags.  Yesterday morning I took the bag with the most liquid and put in my crock pot. I let this cook for about an hour and then added the ingredients in the recipe below.  I also added a can of whole kernel corn. Last night I served this with cheese quesadilla triangles.  It hit the spot on a cold night! I think you could use chicken instead of pork and it would be very good.
Nancy's Chili Verde

2 lbs. boneless butt pork (I used about a 1 ½ lb roast)
3 T. vegetable oil
1 onion, chopped
4 garlic cloves, minced
2 t. oregano
2 t. ground cumin
2 bay leaves
4 – small cans diced green chilies
1 can Rotel tomatoes
1 can tomato sauce
1 can chicken broth (2 cups)
Season pork with a blend of Mexican spices. I used Emeril's Southwest seasoning.  Cook in crock-pot for 4+ hours or until tender and easy to tear apart.  Add onion and garlic about mid-way through cook time.  Tear pork into bite size pieces.  Add all other ingredients, bring to a boil and simmer in crock-pot. Serve with cheese, sour cream and chips.