Jonathan, Rachel and I have our own little Christmas traditions. One is our Christmas Eve.  We always go to church together.  Our current church offers three services beginning at 4:00 pm and that's the one we will go to.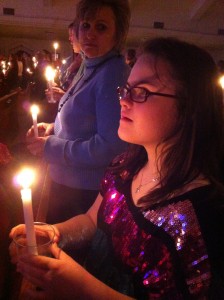 We will then come home and have our pasta dinner.  By now Mrs. Claus has left a package for Rachel. Thanks to my friend Alyson for this Christmas tradition.  On Christmas Eve Mrs. Claus always leaves pajamas.  Rachel looks forward to this.  Our evening culminates with Jonathan reading the Christmas story from the Bible. Simple, meaningful and small.  I love it.  I make a different dessert each year and this year's dessert for our little dinner is Salted Caramel Peanut Butter Pie. I've made it once or twice before. Jonathan says it is rich and yummy!  Rachel says anything with chocolate and peanut butter is amazing!  Thanks to Pillsbury for the wonderful recipe which I've posted below. Merry Christmas and Happy Holidays to you and yours!
Salted Caramel-Chocolate-Peanut Butter Pie
Ingredients:
1 Pillsbury® refrigerated pie crust, softened as directed on box or one homemade pie crust
Filling
1 bag (14 oz) caramels, unwrapped
¼ cup milk
1 ½ cups Spanish peanuts
1 can (14 oz) sweetened condensed milk
1 egg, beaten
1/3 cup peanut butter
8 oz miniature chocolate-covered peanut butter cup candies, unwrapped, chopped
Topping
1 bar (1.55 oz) milk chocolate candy, melted
¼ cup Spanish peanuts
¼ teaspoon kosher (coarse) salt
Directions:
·         Heat oven to 450°F. Bake pie crust as directed on box for One-Crust Baked Shell, using 10-inch glass pie plate. Cool completely on cooling rack, about 15 minutes.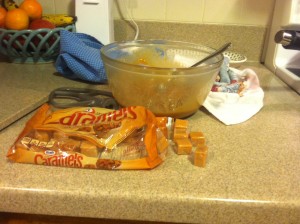 ·         Meanwhile, in medium microwavable bowl, microwave caramels and milk uncovered on High 1 to 2 minutes or until melted; stir until smooth. Reserve 2 tablespoons melted caramel. Stir 1 1/2 cups peanuts into remaining caramel. Pour caramel mixture into baked pie crust.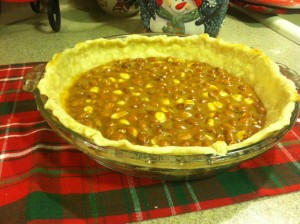 Reduce oven temperature to 350°F. In large bowl, stir condensed milk, egg and peanut butter until smooth. Stir in chopped peanut butter cups. Pour in crust over caramel mixture.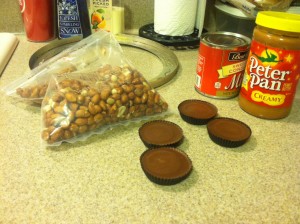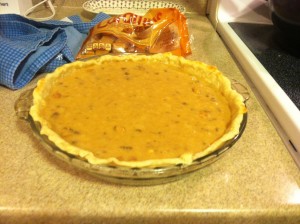 Bake 30 to 35 minutes or until filling is set. Refrigerate 1 hour. Drizzle melted candy bar and reserved caramel over top of pie. Sprinkle with 1/4 cup peanuts. Lightly sprinkle with kosher salt. Cover and refrigerate any remaining pie.