Strange title, I know. Most who know me know that college football season is my favorite time of the year. I love going to the University of Arkansas campus for football games. I must admit it makes me a little melancholy as I reminisce of the "old" days. This is my name on the U of A sidewalk in front of Old Main. All graduates have their name inscribed in a sidewalk on campus. This is from my graduate degree.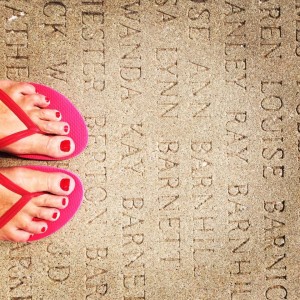 The old days are filled with rich memories and great friends. Usually we are able to re-connect with many of those friends and go back to that galaxy that sometimes seems far, far away.
We all have friends who we don't see for many years and then we pick up where we left off. We saw some of those this weekend.  One set invited us to their box which was awesome because it was really hot at the game! We've actually stayed in touch but haven't seen each other often. Ran into them at the baseball tournament and Rachel and Paula became fast besties.Good people.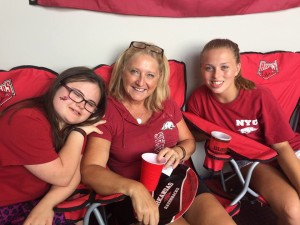 We had also bumped into a great friend from graduate school and met his sweet wife. When they learned how Rachel loved cheerleaders and dancing, they wanted their lovely daughter to meet Rachel. She is a UA pom-pom girl.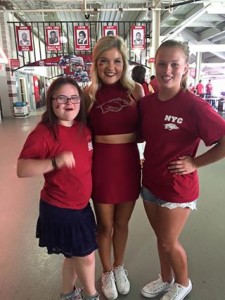 We were able to connect with her and many other spirit squad members who were so kind and inviting with Rachel. Like our buddy, baseball player Bobby Wernes, I am impressed with these young people who have tons of children vying for their time.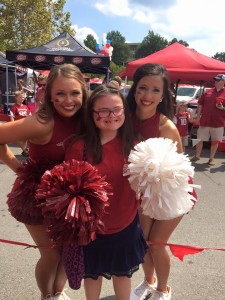 They were hot, too, but they stop,put on their winning smiles and interact. Memorable moments for Rachel and her parents. Thank you. And we had a chance to see one of our own sweet Blue Valley Baptist girls who is in the Razorback Marching Band.
One of the highlights of many of our Razorback weekends is our overnight stays with our friends the Hiatt's. We've known them since graduate school at University Baptist Church. They live on a beautiful farm that overlooks the mountains. I simply love visiting them. They are always gracious to open their home to us and our friends, too!  I call it the Hiatt Bed and Breakfast. Mom Dana and Rachel also have one of those special relationships she develops with people. They just opened Hiatt's Blueberry Farm. I'm always awake before everyone else so Sunday morning I made us a little dish using Hiatt's Blueberries.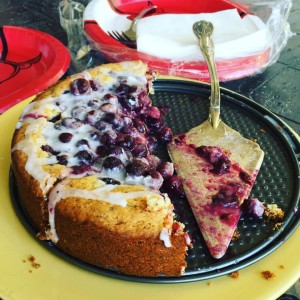 Found this recipe  20 years ago and have always liked it. Several wanted the recipe so see recipe below with credit to  Pillsbury.
You can see here why we love our time sitting on their back deck looking over God's country. Friends, football, sunsets, fun times and beautiful reminders of God's love and faithfulness to me.
Blueberry Poppy Seed Brunch Cake
Ingredients
1/2 cup butter, softened
2/3 cup sugar
1 egg
2 teaspoons grated lemon peel
1-1/2 cups all-purpose flour
2 tablespoons poppy seeds
1/2 teaspoon baking powder
1/4 teaspoon baking soda
1/4 teaspoon salt
1/2 cup sour cream
TOPPING:
1/3 cup sugar
2 teaspoons all-purpose flour
1/4 teaspoon ground nutmeg (I used cinnamon)
2cups fresh or frozen unsweetened blueberries
GLAZE:
1/2 cup confectioners' sugar
1 tablespoon milk
Directions
In a small bowl, cream butter and sugar until light and fluffy. Beat in egg and lemon peel. Combine the flour, poppy seeds, baking powder, baking soda and salt; add to the creamed mixture alternately with sour cream. Beat just until combined. Spread into a greased 9-in. springform pan. I have made in a round cake pan and it works fine.
For topping, in a small bowl, combine the sugar, flour and cinnamon; gently stir in blueberries until coated. Sprinkle over batter. Bake at 350° for 45 – 50 minutes or until a toothpick inserted near the center comes out clean. Cool for 10 minutes on a wire rack; remove sides of pan.
In a small bowl, whisk confectioners' sugar and milk until smooth; drizzle over cake.