Yesterday, we took the Lord's Supper at our church.  Some faiths do this every week but in our church we do not.  As we sat there and prepared I realized that this was Rachel's 1st Communion. We don't do the classes leading up to a 1st communion and all the celebrations that go with the 1st communion in many denominations. In fact growing up in a small country church, I think I was probably 16 before I knew communion and the Lord's Supper were basically the same thing.  As you know from past posts, in our faith we believe in believer's baptism. In other words you are not baptized as an infant but you are baptized after you make a confession of faith in Jesus Christ as your personal Lord and Savior.  Rachel made this profession and was baptized last fall (Milestones and Celebrations)  and this has been the first time we have been in service when the Lord's Supper was taken since her baptism. It struck me sitting there that this is her 1st Communion. I gently leaned over and told her what we were doing and tried to gauge her understanding of the process which I find to be way over the heads of most of us.
As we sat awaiting our cracker, representing Jesus body, and our grape juice, Jesus blood (no wine in the Baptist church), I thought back to my own Lord's Supper experiences at my small country church. It was very regimented. They took it once a quarter on a Sunday night. It was somber.  They gave a lecture about not taking it if you didn't belong to that church. It didn't matter if you belonged to Jesus – you had to belong to that church. We also received a stern lecture on the woes of taking the Lord's Supper if you were not worthy. Honestly, before I was baptized and after I was a bit afraid to participate because I had been told how unworthy I was my entire life – right there in those hard pews!  I couldn't help but grin a little as I thought of how different it was for Rachel.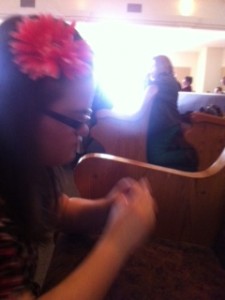 In these pictures you can see the sun shining through so much that the pictures are glared.  It's hard to get a good shot without causing a scene, and even now I had visions of the hand of that preacher from my own childhood knocking me out of the pew should I cause a scene during the Lord's Supper of all things. Honestly, there are people who Satan has used to plant seeds of doubt in me as I consider Rachel and her baptism and the Lord's supper. Questioning whether she understands and whether she'll make to heaven. Really. This does happen.
You know what? I think Rachel actually gets it better than most of us.
Jesus says in Matthew 18: 1- 4,  "At that time the disciples came to Jesus and asked, "Who, then, is the greatest in the kingdom of heaven?" He called a little child to him, and placed the child among them. And he said: "Truly I tell you, unless you change and become like little children, you will never enter the kingdom of heaven. Therefore, whoever takes the lowly position of this child is the greatest in the kingdom of heaven."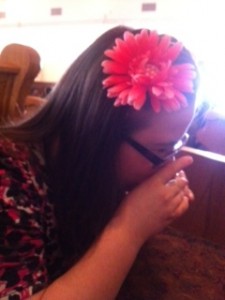 On the way home from church with no prompting from me, Rachel said, "Mommy, I am glad I got to do that." "What?" I said. She responded, "The Lord's Supper."  "Why?" I inquired.  "Because that was Jesus blood and skin and He died so we could be happy."

That about says it. The faith of a little child.  Rachel's 1st Communion.