We moved to Kansas eight years ago. Rachel was entering third grade. Of course I had concerns about school, church, services and community inclusion.  We were fairly well-connected in the Memphis community and the unknown is usually a bit unsettling. One of our major questions was whether there was a youth theatre program for Rachel.  We had never heard of Christian Youth Theater (CYT.) We were referred there by the local Down syndrome affiliate. We do love Christian Youth Theater and I have blogged about that several times. There we met many people and have made eternal friends. There we met our Andrea and her family.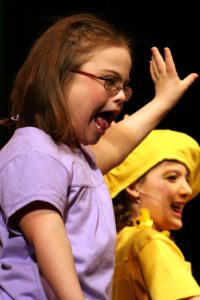 Andrea graduated from Olathe South Sunday night. Rachel has been very emotional about this. To tell you a tiny, little secret, I have been a little sad too. Andrea is an amazing actress. More importantly, she is an amazing young lady and role model. I have had the opportunity to watch Andrea in many settings. She is the lead who takes time to sit down and play silly games with the youngest cast members in a CYT show. One of my most vivid and favorite memories is watching Andrea in the middle of a group of bright-eyed children as they sat around her playing a game in the Green Room. I have mentioned before that I don't believe good mentors are overrated.  Andrea is the actress who makes time to help the other characters with their make-up and special hair styles.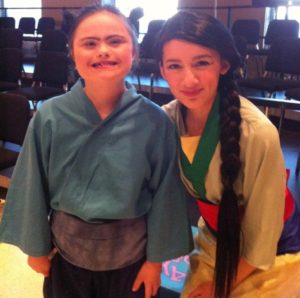 She has always been respectful. She has a little fan club and it doesn't seem to go to her head. It is fun to watch as students clamor to stand beside her in a picture. She is the young lady who takes time for her schedule to work with Rachel on her dance steps.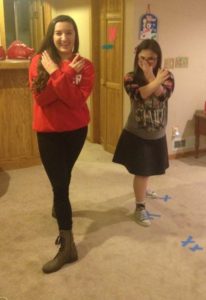 Andrea also volunteered to help Rachel when she went to Olathe South. She wanted Rachel to have a good experience so she requested to be the leader of her mentoring group when Rachel went to school. I say she is Rachel's peer mentor.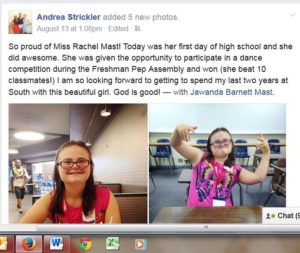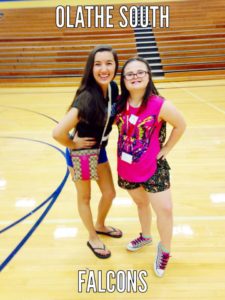 She and her date invited Rachel and her date be a part of their group for the Winter Dance her freshman year.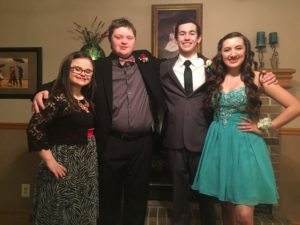 She made the same offer for Homecoming this year.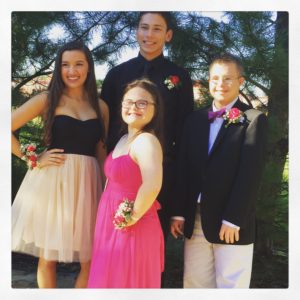 And she joined Rachel, her sister Halie, dates and a few others for the Down Syndrome Guild of Greater Kansas City's Prom the past two years.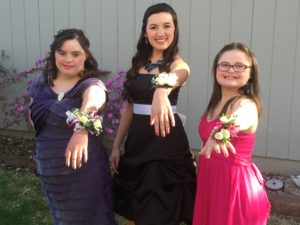 +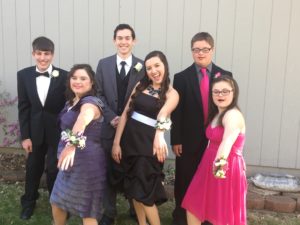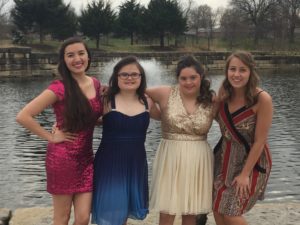 She volunteered to shepherd Rachel through the process of auditioning for "Grease." It was a lengthy audition wait but Andrea sent me regular updates and told me that Rachel was calmer than she was while they waited!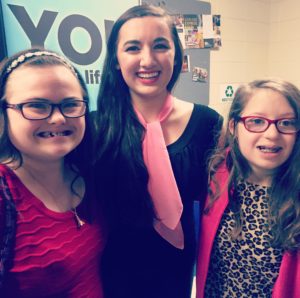 We go to almost everything Andrea is in and she has been at most of Rachel's shows and showcases.
Eight years ago when we moved to Kansas and met Andrea, I didn't know that Andrea would be Rachel's peer mentor at her high school. If we hadn't pursued an inclusive community theater experience, we wouldn't have met Andrea.  We wouldn't have had that trusted relationship for Rachel's first two years of high school.  Just another illustration of the importance of inclusion across settings and the impact it can have. We will miss her but we can't wait to see her soar!
Andrea's last day at school was last Thursday. Rachel told me she went and found Andrea during lunch to tell her good-bye and how much she would miss her. Andrea told me about it too, and said they both were crying. Andrea said, "I will miss seeing Rachel's sweet smile everyday."
Inclusion in action.