Rachel has always said she wants to learn to cook. The exact quote would be "I want to be a good cooker like you mommy."
I love to cook so I looked forward to teaching her.  I used to teach cooking classes and foods classes when I was an Extension 4-H Agent. I can do this. Our cooking adventures have not always been, shall we say, positive experiences.
First, I learned that Rachel is more interested in the finished product than the process.  She also has an aversion to having food on her hands. Washing your hands is a healthy habit but she wants to wash her hands between every step.  This makes it difficult to make progress. Then, there is her small stature. Our microwave is over the stove top and difficult to reach. Before you recommend a stool, she has an aversion to heights. Several years ago when I first started trying to teach her how to make brownies, I determined I would never be able to teach her to crack an egg. I successfully taught 4-H kids to crack eggs but I was a complete failure with my own daughter. She was taking a food class at school and came home one day and illustrated her new egg cracking skills. The foods teacher must have been more like Cinderella's Fairy Godmother because Rachel honed several needed skills including egg cracking.
For the most part we have focused on simple things like making sandwiches. She likes to eat wraps so she has that down. Rachel frequently talks about cooking in her own apartment. Usually she talks about cooking for her husband.
Rachel is 16 and a half. She always throws in the half these days. Independence is heavy on her radar and mine.  I want her to be able to cook some of the foods that she really likes as part of her independence. Her favorite food is pasta.  Spaghetti is not too difficult so a while back, I decided she should learn how to make that. When we first set out to cook the pasta all was well until it was time to drain the pasta. She has a healthy respect for a hot stove and a pot of boiling water makes her eyes big as saucers!  I purchased a microwave pasta cooker. Now, I'm glad I bought it. It's from Tupperware and it is awesome, but you still have to drain the pasta. So we have eliminated the cooking pot issue but still have the draining, the hot water and the reaching the microwave issue. There had to be another option.
I turned to my found Barilla Pronto Pasta that requires no draining and it all done in one pan. I looked in nearby grocery stores and didn't see it but a few weeks ago, I noticed my store had some. I bought a box of the penne. Last night was the night for us to try it.
She read the directions and followed.  Pour the box of pasta in the skillet. Pour two cups of water over the pasta.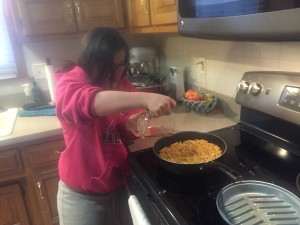 Cook on high heat for 10 minutes. Ten minutes later we had almost perfect pasta!  Last night, I used it for a Greek Pasta recipe we like. But Rachel  realized this was her ticket to cooking pasta!  She said "I can pour spaghetti sauce over it or white sauce. And I can have meatballs!" So if you are in the market, try the Pronto Pasta.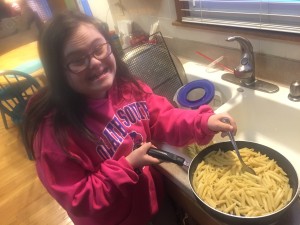 If you are interested, this is my Greek Pasta Recipe. Found it in a Pillsbury Cookbook several years ago.
Pillsbury Greek Chicken and Pasta
2 cups uncooked penne pasta
¼ c. butter or margarine
1 large onion chopped
¼ c. all purpose flour
1 can (14 oz) chicken broth
1 c. crumbled feta cheese
3 c. chopped deli rotisserie chicken(I cook chicken breasts in the crock pot with 1 T. butter and season them w/Cavendar's Greek season. Then, I shred myself and pour the juice in with the pasta.
1 jar (6 oz) marinated artichoke hearts, drained
½ c. sundried tomatoes chopped (packed in oil and then rinsed)
1/3 c. sliced kalamata olive slices
Heat over to 350. Spray oblong baking dish with non-stick spray. Cook and drain pasta as directed. In a 3-qt saucepan, melt butter over medium heat. Add onion and cook for 3 minutes or until translucent. Stir in flour and cook and stir for 30 seconds. Slowly stir in broth and heat to boiling. Cook 3 – 4 minutes until thickened – stirring frequently. Remove from heat and stir in cheese. Gently stir in pasta, chicken, artichokes, tomatoes and olives. Spoon into baking dish and cook for 25 minutes or until hot. Yummy!