I don't even know if Yummer is a word. I just like the way it sounds. I love cucumbers. I always have. My mom always joke that there was a pan full for me and a couple for everyone else in the family.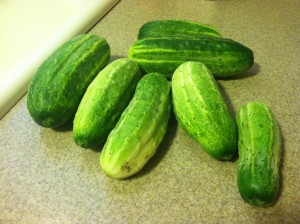 Growing up I remember plastic pans full of cucumbers at our house and the metal dishpan full at my grandmother's house.  I love all cucumbers but my favorite are those little pickling cucumbers. I eat them in a variety of ways. One of my favorites is to put a little mayo on some bread and slice cucumbers with a little salt and pepper and make a sandwich. You can add cheese, tomato, bacon, avocado, turkey.  I usually make it a veggie sensation. I can also just wash them, cut the ends off and eat them peeling and all.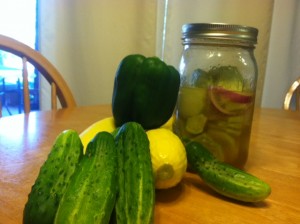 When you move to the city and love cucumbers as I do, it is hard to find those little picklers. The past few years we have had a little tiny garden, and we have grown some cucumbers. My harvest has been the best this year though.  Yesterday I had three larger picklers. Jonathan has determined he may like them best in this marinade. I just made it up from memory – my mom used to make these when we were growing up. Yesterday, I did them in a Mason jar as my grandmother would say. It is a Ball wide-mouthed quart jar. So I have officially named my cucumbers and marinade – Cucumber Yummers. Here's the recipe.
Cucumber Yummers
1/2 cup vegetable oil
1/4 cup apple cider vinegar (you could use white and it would be fine)
1/4 cup sugar
3 – 4 cucumber sliced thin (peeled or not – your choice. I peeled mine.)
1/2 red onion sliced thinly
Mis the first three ingredients in a Mason jar with a tight fitting lid. You could use a bowl with a tight fitting lid as well.  Shake until blended. Add cucumbers and red onion. Refrigerate for 2+ hours for best flavor.  I only had about 1/4 red onion so I added it.  Jonathan and Rachel concurred – they were yummers and all gone, gone at dinner. I hope your family enjoys.