In case you missed the weekend news, Rachel and I were honored to be a part of a piece that ran yesterday on  NBCnews.com, Could It Be a Cure? Breakthrough Prompts Down Syndrome Soul-Searching."
The article was prompted by new research that came out a few weeks ago, research that says they may be able to turn off the extra chromosome that causes Down syndrome.  Yes, in our lifetime.  And yes, this has created considerable chatter in the Down syndrome community and beyond. Hence this thoughtful and though-provoking piece by reporter JoNel Aleccia and NBC news. Shortly after the research hit, I blogged about this from our family's perspective, Taking Away the Down Syndrome.
NBC picked up on the latest research and wanted to know what parents and people with Down syndrome really thought about the new research. It does pose some interesting questions that still can't be answered but gives us plenty to ponder.  I spent about 45 minutes speaking to Ms. Aleccia. Obviously, she is on top of the game because she sought out perspectives of another parent Brian Long (Connor's dad), Dr. Brian Skotko, Jeanne Lawrence (lead researcher) and self-advocate David Egan. She talked to the National Down Syndrome Society. I can tell you from my pleasant discussion with her, she had done a ton of homework on Down syndrome and sought out information to make this into an informative and accurate piece. Having down a ton of work with media, I can tell you it feels good to be portrayed accurately in a piece!
Then, this "amazing" photography Chuck France spent the day with Rachel and me.  He started out at our school, Indian Trail Middle School, taking pictures of Rachel during WEB (Where Everybody Belongs) Leader training.
Kudos to our principal Mrs. Vrbas, Indian Trail Middle School and Olathe Schools for working on short notice to help make this happen.  I suspect the kids thought it was cool.  After his five hour stint at school, he spent several hours with Rachel and me just doing our afternoon stuff. Rachel was pleased that her dog Dora got in on the action too!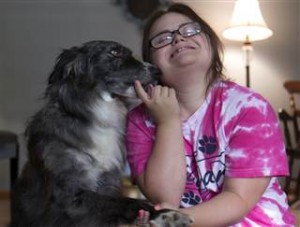 The result of this one day plus of photo shoots and interviews was what I believe is a fair and meaningful article. I hope you have read it or will read it.  Perhaps you will feel compelled to add some comments. Like all things some of the comments are spot on and others are totally ignorant. Watch later in the week because I'm going to give you Rachel's take on this Down syndrome thing. You may or may not be surprised.
By the way, at the end of the day Rachel was spot on too. She rarely misses a chance to advocate so she invited Chuck to be on Rachel's Razorback's walk team in October. Chuck says he'll be there.