Happy birthday to my daddy. I rarely refer to my daddy as dad. He has always been and will always be my daddy.  On his special day I have been reflecting a bit and wanted to share a little.  Daddy graduated high school but had no other formal education. He and my mom married very young. He was 17.  My sister was born before he was 18, me around age 21 and then my brother a few years later.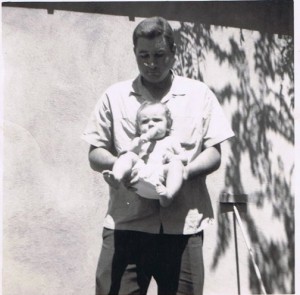 Daddy is not always politically correct.  Additionally, he has been known to shake his fists and yell at the television, radio, players and coaches. I have to scold him a little. Some years back at the Arkansas-Auburn football game, he was yelling at the football coach, gritting his teeth and shaking his fist.  Rachel was three I think. I gave him the evil eye and Rachel said, "Popie, you need to calm down." Neither of them has ever forgotten it, and they frequently laugh about it. This is a picture from that game and my favorite picture of the two of them. Such joy.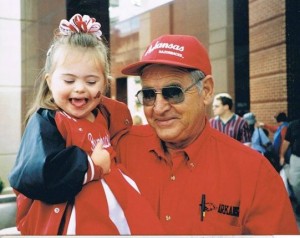 Daddy worked for a local ice cream company, Yarnell's Ice Cream, for 30 years.  He started in the mixing room and worked his way into a route salesman and then management. He was and still is proud of his job there. Me too. He is good at talking to just about anyone, and I imagine that made him very successful as he called on community grocery stores throughout the state of Arkansas.
My most special memories from growing up revolved around sports. He and I watched lots of football together. That was before ESPN so we got whatever was on. We also listened to a lot of it on the radio. I am still not a fan of static radio. The football team he adopted was the Miami Dolphins and they became my team. Winning back to back Super Bowls in 1972 and 1973 and going undefeated in 1972. Only team to ever do that. Daddy taught me all of the teams and their quarterbacks. We were both so proud of my ability at the age of 7 to give you the rundown. We still call to chat about wins , losses, recruits, trades, coaches and coach's wives these days!.  Of course, we have spent a ton of time watching our beloved Hogs. They have created great sadness and great joy in our lives.  Mostly, they have helped to create a bond that extends beyond me to Jonathan and now Rachel.
Daddy loves baseball more than most anything and watches almost every single game the St. Louis Cardinals play.  His dream to be a professional baseball player didn't pan out though he did have professional try out back in his day.  He turned to fast pitch softball. He was an extremely good pitcher and managed a team for as long as I could remember.  He had a hot temper and knew the rules better than about anyone you know. We spent many of our week nights at a softball field and almost every summer weekend. The players on his team and others became our extended family.  We were together so much. When I was little, my mom kept score for daddy's teams while we kids ran around like wild animals.  Then, my sister took over the score keeping and then it was my turn. I still take a lot of pride in that, too.
When I headed off to college, I went to the University of Arkansas. It was a very different time 34 years ago. It was just four hours but Fayetteville was like traveling to Alaska. I graduated with 37 people and there were about 15,000 on the UA campus.  I knew very few people and this independent girl from Rose Bud, AR was lonely and homesick. I just wanted to come home. Those first few weeks, I called and professed my homesickness to a few friends, but I didn't want my parents to know.  Finally, I couldn't take it and called daddy and said I wanted to come home. Now, if you knew my dad you would know that his inclination would be to say come on home honey. Instead he said this, "Well, if you want to come home you can at the end of the semester. But ever since you were a little girl you have wanted to go to the University of Arkansas and be a Razorback.  I just want you to think about that."  He was right.  I stayed. The rest is history.  One of his proudest days was the day I graduated from college.
To close, I have a final story that I have rarely shared.  After I received my prenatal diagnosis, I called my parents. I got them both on the line and told them that we were having a little girl and her name would be Rachel Nicole.  My daddy loves babies and especially baby girls. I then told them she had Down syndrome. I don't remember exactly what they said except that they wanted to know if they needed to come to Memphis.  They didn't say they were sorry either though.  Two days later my daddy called me and he started crying. He told me that he just wanted to know how to help me and Rachel. He said he didn't know anything about Down syndrome but he had always given his United Way money to a nearby school for kids with disabilities (I'm sure that's probably not the word he used then!)  So "I went down there yesterday and told the director about your baby. I told her I wanted to know about Down syndrome. She gave me a book and told me to remember that Rachel would be more like us than different. She told him to be careful not to look at others with Down syndrome or other disabilities and compare because Rachel was going to be born in a new time when she would have so many opportunities.  She told him to come back anytime he wanted." My daddy loves me so much.  He wanted to help me and he didn't really know how. So my daddy, the country boy turned successful ice cream salesman who can tell you every statistic about the St. Louis Cardinals set out to learn what he could about Down syndrome so he could be there for us.  He lucked out I would say because the lady he talked to gave him some really good, positive information. I would say that is love and "Daddies are definitely important!"
Happy birthday to mine!