It is hard to believe that we met George 10 years ago.  Many of you know the story of George but many don't. During Down Syndrome Awareness/Acceptance Month, I always re-share the story of George and Rachel because it is an inspiration and because it gives you tools for your journey.  Today is George's 16th birthday so Happy Birthday George!  I hope you enjoy reading it as much as I enjoy sharing it.
The Power of Inclusion – George!
George is one of Rachel's life friends, and George is mentioned in almost all of my presentations about Down syndrome. George and Rachel had the good fortune of landing in Mrs. Brewer's kindergarten class. When I inquired about positive peer models, George's name was the first one out of Mrs. Brewer's mouth. "He just seems to have a knack for helping Rachel when she needs help and just being her friend."  George's mom signed the family up to come to the Buddy Walk® that kindergarten year. None of us knew it would lead to a lifelong friendship.  Here's their picture from the walk and it was one of the photos used in NDSS Times Square Video promoting Down Syndrome Awareness the following year.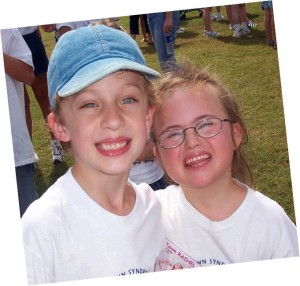 From there, Rachel and George just built a precious friendship. Our families became friends.  George was included in some of our outings, most notably attending Red Birds (Memphis AAA Baseball team) games with us.  From time to time, we had the opportunity to sit in one of the boxes. George and Rachel loved this. They loved the food- especially the ice cream in the plastic baseball caps. George's mom always wanted him to bring money and take Rachel on some of the rides and play some of the games. Rachel was always proud because she encouraged George on some of the rides that made him a little nervous. George had Rachel over to watch the original Willy Wonka movie. She still associates the original movie with him.
Each year Mrs. Brewer's class had a Christmas play. George was Santa Claus and Rachel an elf. She still talks about him in his Santa role and she still imitates his "ho, ho, ho!" George and Rachel walked together at kindergarten graduation.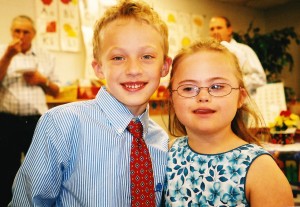 In 1st grade I came and did my little song and dance on the Buddy Walk® and a peer presentation on Down syndrome. The teachers asked the children "How can you be a good friend to Rachel? " George's hand was first up and he said, "When the kids on the playground don't understand what she is saying, we can help them to know what she is saying." There are many George and Rachel moments. He was on her walk team with his family beside him every year we lived in Memphis, and his mom usually donates to our team here as well. That's' the kind of folks they are.
But there is one story that summarizes George and Rachel best.  When we learned we would be moving to Kansas, it was just before school would start.  It all happened quite fast.  We had a going away party and then we did some individual outings with some of Rachel's closer friends.  And of course, we had to go to a Red Birds game with George. This was only a few nights before our departure.  When we got back to George's house, he told Rachel good-bye and they exchanged cards, gifts and hugs. We gave George and Rachel's friend Sarah K. both copies of Max Lucado's "You Are Special." As I often do, I wrote them notes about how special each of them is and what I saw in them that God wanted to use for the rest of their lives. I thanked them for being such wonderful friends to Rachel.  I told them that I hoped they kept these books forever.
Then it was time and I walked George into his house to say good-bye to his family.  As I turned to tell him good-bye and hug him, he threw his arms around me and cried, "You take care of Rachel because I won't be there to take care of her."  Tears streamed down my face. I mumbled thank you and hugged him tightly.  I don't know if George remembers it, but it was one of those "aha" moments in my life.   
In Rachel George sees his friend.  He doesn't see Down syndrome. He sees his responsibility to help if needed or wanted. He sees someone who is capable. George was the smartest kid in the class. He never babied Rachel. He friended her before Facebook! He respected her and gave her dignity in the way he treated her.
I do expect George will be CEO of a company someday.   And you know what?  He will hire someone with Down syndrome.  Why? Because George gets what most of people never get. He sees Rachel for who she is and for her abilities. The power of inclusion is that inclusion does way more for those without diagnosed disabilities than it does for those with disabilities. I bet George would tell you that, too.
The world needs more George's.

Note: There are some other great George's in Rachel's life like Sarah K., Allie, Hanna, Andrew, Andrea and more. Watch for stories about how the world needs more of them, too.