I wasn't going to blog today. I had a meeting first thing this morning at Rachel's school that I was unsure about. Ended up being a breath of fresh air. The teacher so wants to do a good job with Rachel.  As usual the nervousness was unnecessary, but I told the teacher she didn't know about our IEP Wounds.
Then, today is 9/11 and it is a somber day.  Reflections of a day that forever changed America.  Reflections of all that was lost that day, but as Americans we have carried on.   That's our way of life and we are so blessed to live in this country where we have more freedoms than anywhere on earth at any point in history. One of our freedoms is to choose what we participate in and who will try to become.  I talk to many families who do not feel welcome in the dance studio, gymnastics, school, church, the soccer field, football field, basketball court or anywhere else. Some of these same families are afraid of rejection for their child and for themselves. So today I wanted to share this bright little story.
Rachel loves to dance. Rachel is a good dancer. She started taking ballet when she was 3 1/2 years old.  I often find her in her room dancing to music on her iPad.  She simply loves to dance.  As she gets older, it his harder for her to master some of the precision dance skills and to keep up with some of the routines.  She works extremely hard though, and she has that stage presence and smile that you can't teach.  Keep in mind I am not artsy in in way, shape or form.  This is another way I know God has a great sense of humor. I have had to learn to do dance  hair, dance make up, stage hair, stage make-up – all out of my comfort zone. I would rather tell you which defense to call but…. that's not who Rachel is so we trudge along.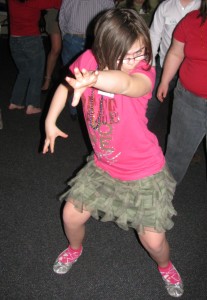 Last night was her first dance class of the new year.  She is in a combo pom, hip hop, jazz class.  She took her first class at Miss Leigh's School of Dance three summers ago and Miss Mandy was her teacher.  Miss Mandy is her teacher again this year.  When they arrived last night, Jonathan said Miss Mandy gave Rachel a big hug and said, "Rachel, I am so glad to have you back in my class. We are going to have so much fun." Rachel came home and told me all about it. She feels like she belongs. She is welcomed with happy hearts!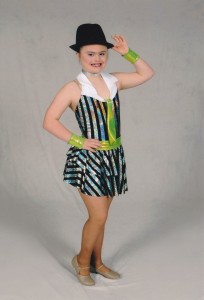 Last year as I was trying to figure out the best class for Rachel this year,  I was speaking to another teacher at the dance school. I told her I was concerned about there being an appropriate place for Rachel as she got older. She didn't miss a beat and looked and me and said, "We will always have a place for Rachel."  She couldn't have known how much that would mean to me – other than the fact that I welled up in tears and gave her a bear hug. We all want to be wanted and we want our children to be wanted.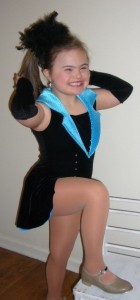 So today on 9/11 – I could give many shout outs to those who love, embrace, celebrate and welcome Miss Rachel. But I just want to thank her teacher from this morning and those teachers at Miss Leigh's School of Dance. You know how you are.
I am proud to be an American where I have these freedoms and so does Rachel. God bless America!