Four score and seven years ago we started working on passing the ABLE Act.  In reality it only took eight years, but there were days when it seemed much longer!  A few years ago just before the ABLE Act passed, I wrote a blog a few years ago chronicling our journey and how Rachel and our family had changed in the then eight years  – "Follow The Yellow Brick Road to Rachel's Pink House."
Rachel got her start in advocacy quite young.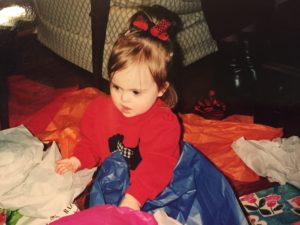 This little dolly went with me to Congressman Ed Bryant's Town Hall meeting. We had an issue we needed help on, and I wasn't happy with the progress we were making. I figured if I took a toddler, they would call on me for my question first. I was right. Funny thing, I don't even remember the issue!
A few months later our family journeyed to Tennessee's Disability Day on the Hill.  The Tennessee Disability Community comes together on the state level, much like the National Down Syndrome Society (NDSS) Buddy Walk® on Washington, and visits state legislators to garner support for state level policies that positively impact those with disabilities. We left early in the morning for the almost three-hour drive to the state capitol in Nashville. We visited several legislators and ate lunch and by early afternoon a little dolly named Rachel was tired. Jonathan said he was going to sit on a bench in one of the wide corridors in the center of the capitol and let her play. I went on to finish our visits. About an hour later I came back and saw a big crowd around the spot where I had left them. I wondered what was going on. Apparently, a ton of people including multiple legislators stopped to talk with her. According to Jonathan, she was quite the little entertainer.  He told me we should have just sat there all day!
We were still living in Tennessee when I started learning about the ABLE Act which was first introduced in 2007 as the Financial Savings Accounts For Individuals with Disabilities (FSAID.)  Not too long after we moved to Kansas, I began working on it more aggressively. I began to do more volunteer work with NDSS and was invited to become part of  a new program: the NDSS DS-AMBASSADOR® Program. Our family felt it was a priority for us to do our part to help pass this legislation that we believed would impact not just Rachel but others with Down syndrome and other disabilities.
Rachel started going with me to Washington DC and the home offices of the Members of the Kansas Congressional Delegation.  It was on her first trip to Washington DC in 2012 and in the office of Senator Jerry Moran that she proclaimed, "You need to sponsor the ABLE Act because I want to grow up and live in a pink house!" I didn't know on that day that Rachel's Pink House would become a symbol to so many people of the ABLE Act!
Rachel kept visiting elected officials and made friends with Congressman Yoder, Senator Roberts, Congresswoman Jenkins and their staffs.  Rachel has missed events important to her because her voice was needed to tell this story.  A lot of other people, many we will never meet, joined the movement and made calls, sent emails, visited legislators and helped to push the ABLE Act across the finish line. In 2014 Congress passed the ABLE Act with sweeping bipartisan support. President Obama signed the Stephen Beck Jr. Achieving a Better Life Experience (ABLE) Act on December 19, 2014*. The law was named for my friend Steve Beck who was at the kitchen table when the idea was born of a group of suburban Virginia parents. Steve was the volunteer and NDSS Board member who had worked tirelessly alongside NDSS leadership, Congressional leadership, families, self-advocates and other disability groups to lead the efforts to move the bill along. He sat in front of me when the House voted to pass the bill. Then, prior to the Senate passage of the bill, he passed away.  Congress renamed the bill in his memory and honor.
After the federal legislation was passed,  state ABLE Acts had to be introduced, shepherded and passed. Kansas State Representative Erin Davis sponsored the Kansas ABLE Act.  Rachel went to the Kansas legislature and told them about her dreams and her pink house.
The Kansas ABLE Savings Plan was signed into law in April 2015. Kansas State Treasurer Ron Estes and his staff worked diligently to put the nuts and bolts in place for Kansans with qualifying disabilities to have ABLE accounts.
Today, Thursday, January 26, 2017 Rachel will open the first Kansas ABLE Account.  Finally, she will start saving for that pink house that she has been telling everyone about. Then tomorrow, we will wake up and continue advocating for more public policies that will help individuals with Down syndrome really be able to pursue their dreams of living independent lives with jobs they love in homes of their own just like all other Americans.
On this historic day though, we are going to celebrate and whisper a thank you to my good friend Steve Beck and the many, many other people who have made this day possible and have helped Rachel take one more step toward her pink house. And lest I forget, thank you Rachel for doing your part!
#AdvocacyMatters #LittlePinkHousesinAmerica #passEDtheABLEAct @rachelspinkhous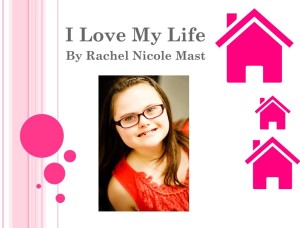 The Stephen Beck Jr. Achieving a Better Life Experience (ABLE) Act (Public Law 113-295) was signed into law on December 19, 2014. The ABLE Act amends the Internal Revenue Service Code of 1986 to create tax-free savings accounts for individuals with disabilities. The funds in the ABLE account do not count toward the $2,000 cap on assets that is required to remain eligible for critical government supports. An ABLE account may fund a variety of essential expenses for individuals with disabilities including medical and dental care, education, community based supports, employment training, assistive technology, housing and transportation. More information can be found at www.ndss.org
Click here to open our Kansas ABLE Savings Account!