This past weekend we had the opportunity to be a part of the Techniques for Success Conference. They (the collective efforts of Down Syndrome Network of Montgomery County (DSNMC) and F.R.I.E.N.D.S. of Frederick) do an incredible job with this event, and we were honored to be invited. On Friday night, there were 120 parents and Saturday they hosted 350 educators. There were a variety of topics. Rachel and Savanna were invited to present on "Social Inclusion." We took Rachel's "I Love My Life" presentation and tweaked it a bit. We added a few slides for Savanna to present. I did two tip sheets – one for parents and one for teachers on how to promote social inclusion.
Rachel's standard presentation always says that she loves friends. In her presentation she declares, "My favorite thing to do is to hang out with friends."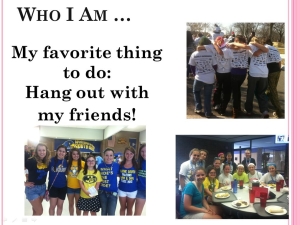 She doesn't care what environment either. From church to school to movie dates, plays, sleepovers and board games, this girl loves to be with her friends. Similar to most 15-year-old girls I predict.
Part of our tweaking was a segment called "What I Like From Friends" where Rachel lists some things that she wants from friends. This is her list:
Invite me to sit with you at lunch.
Invite me to birthday parties.
Invite me to sit with you at ball games or pep assemblies.
Invite me to join your group for the school dance or party.
I am not a baby. Please ask me if I need help or I will ask you to help me.
Please slow down when you walk. It is hard for me to keep up sometimes.
Slow down when you talk and wait for me to answer.
Please sit on the lower bleachers with me at activities. I am afraid of heights.
Nothing earth shattering, quite practical and pretty typical.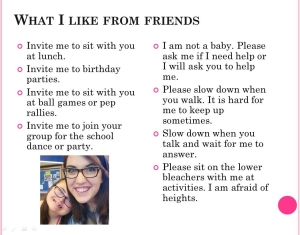 During these final days of Down Syndrome Awareness month, I thought it would be awesome to let a person with Down syndrome tell us what they like in friends and how someone can be a friend to them. Rachel would say it is so easy and it is super fun. In fact Savanna said, "It is fun to get to know someone with Down syndrome. There are many plus sides to being friends with someone with Down syndrome. First, Rachel is one of the most loyal friends that I have. And second with Rachel, there is never a dull moment."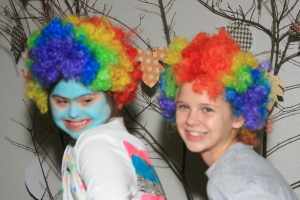 Rachel and Savanna rocked their presentations, too. Late on a Saturday afternoon, they were all that stood between the teachers and getting home.  About 350 teachers stayed and gave the girls a standing ovation. Now let's put it into action. Rachel would say, "That would be super amazing."