My husband Jonathan loves lemonade but beyond that, he is not much for lemons.  Imagine my surprise that his favorite Starbucks treat is their Lemon Loaf. So one day I saw this recipe for Starbucks Like Lemon Loaf. Why not, I thought. I have most of the ingredients. I did have to buy the lemon extract. It looks easy so let's try it. I made it and Jonathan proclaimed it outstanding. I have taken it to several friends and relatives and it has disappeared. Must be good. So here you go.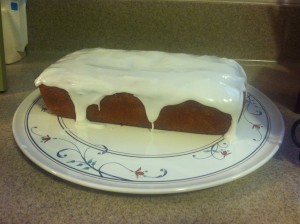 Starbucks Like Lemon Loaf
1 1/2 cups flour
1/2 teaspoon baking soda
1/2 teaspoon baking powder
1/2 teaspoon salt
3 eggs
1 cup sugar
2 tablespoon butter, softened
1 teaspoon vanilla
1 teaspoon lemon extract
1/3 cup lemon juice
1/2 cup oil
Lemon Glaze
1 cup or more powdered sugar
2 tablespoon(s) milk (calls for Whole but I used skim and it was fine.)
1/2 teaspoon lemon extract
Instructions:
Combine flour, baking soda, baking powder and salt in a bowl.
Use a mixer to blend together the eggs, sugar, butter, vanilla, lemon extract and lemon juice in a medium bowl. Pour wet ingredient into the dry ingredients and blend until smooth.  Add oil and mix well. Pour batter into a well greased 9×5-inch loaf pan. Bake at 350 degrees for 45 minutes or until a toothpick stuck into center of the cake comes out clean.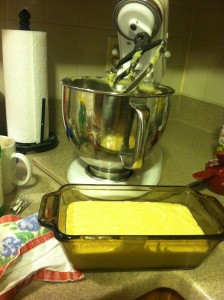 Lemon Glaze: Make the lemon glaze by combining all the icing ingredients in a small bowl with an electric mixer on low speed. You can add powdered sugar and/or milk to get the consistency you desire. I like this a little thicker.  When the loaf is cool, remove it from pan and frost the top with the glaze. Let the glaze set up before slicing.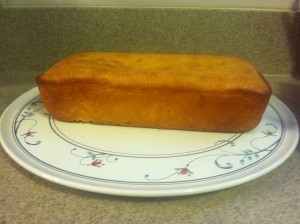 I have been having an issues with it falling in the center. It is either my oven or because my butter is not soft.  Must still taste okay because it keeps disappearing!