Last week was quite a week for Rachel and our family. Sunday night she finished her 16th show Christian Youth Theater's Cinderella. She took her Romeo and Juliet test over Acts IV and V. She scored 19/19. She was very excited about her bones worksheet from owl pellets in biology. As a little aside, her biology teacher extended an invitation for her to go on a science trip to Costa Rica. I almost cried and nearly hugged the teacher. The teacher's response was "Why wouldn't I invite her?" This is definitely a teacher who gets it and should be teaching others how to include those with different abilities. Some of you understand my elation more than others. Back to Rachel's week.
Rachel has become involved with an organization called Inclusion Connections. Her involvement is mostly in the summer but the program is unique in it's peer mentoring approach to activities, building friendships and raising awareness with a vision of turning all that into employment, housing and life opportunities. Thursday night she had the opportunity to be in their first ever fashion show fundraiser, Fashionability. It was awesome and one of the best non-profit fundraisers we've attended. It was simple and truly showcased a variety of differently-abled teens on the runway.  Differently-abled included those with and without a disability label. The kids all seemed to love it and Rachel was truly in her element blowing kisses and working the crowd. Great fun for a great cause.
We learned the week before that Rachel had been selected as the Freshman girl representative for her high school's Winter Court festivities. This entailed quite a few things. From being honored at the school pep rally to crowning the Senior King (who also has Down syndrome) at the boys basketball game, Rachel floated through the week.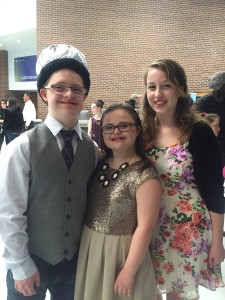 It culminated with the WPA (Women Pay All) dance on Sat. night. She invited her friend Ryan, so I guess it was officially her first date. She has been boy crazy since she was a toddler so for Rachel this was the source of great nervousness. Her precious friend Andrea, who we met through CYT and is now her peer mentor at the high school, and her date Justin invited Rachel and Ryan to join them. I have more to say about that but I'll blog about that another day. It was a magical night for Rachel. We were PTO chaperons so it was fun for us to be able to see her in her element at the dance just being one of the kids. It was fun to watch her dance and interact. It was inspiring to watch the other students interact, too.
The Friday night ceremony included the announcement and crowning of the King and Queen. As part of this, parents were invited and introduced with the Winter Royalty Court. The kind and queen were chosen by the students from the three senior female reps and three senior male reps. Matthew Horn, who happens to have Down syndrome too, was elected as the King and a fellow STUCO rep, Lauren, was elected queen. Again it was a happy time to watch how much fun the students all had and how they embraced each other.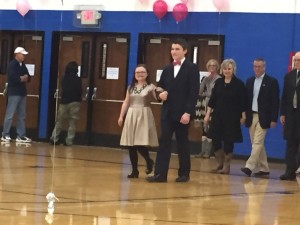 For us, the highlight of that night and maybe the whole process came after the game ended and as the students stood singing their Alma Mater. Rachel was a few steps away from the group but the young man on the end turned and looked at her, motioned and with a big smile stuck out his arm for her to join the line.  Here's a picture.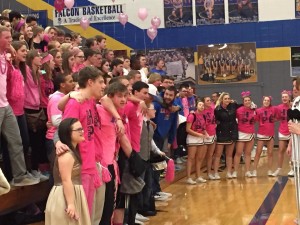 The team won that night. We think we all won that night.