A year ago last week I noticed all of the posts from schools about their campaigns to End the Use of the R-word. The campaign has taken off these past few years. It's easy. It's needed. Education is a game changer. So I inquired of a friend and she said that it was a district-wide deal so I contacted our District Special Education Director. Shouldn't we be doing something? She said that she would reach out and see if our district might participate.  I don't know if that was the catalyst or if my timing was just good, but the result is impressive.
Back in October Rachel was invited to a lunch meeting. The meeting was a gathering of students from the district's four high schools. It was an inclusive group and the students brainstormed about what they could do with this campaign and ultimately support those with intellectual and physical disabilities. Each school did their own thing and I don't know what went on at the other schools, but our kids knocked it out of the ball park! Last Wednesday, March 4 was the annual "Spread the Word to End the Word" Awareness Day. The teacher who coordinated at Rachel's school sent me an email the week before and told me she wanted me to know what the students had decided to do. When I say students, I mean students with and without disabilities. They did a week-long campaign. They made signs and put up around the school. They made a big banner and during lunch staffed a table and had anyone and everyone sign it. If you signed you got a bracelet. I got one when I went up to take picture of Rachel at the booth.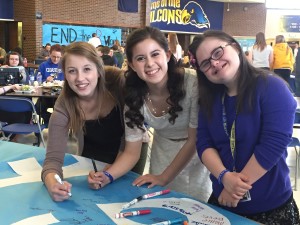 Student Council Vice President, President and Rachel!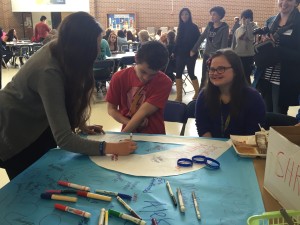 Rachel and friends taking signatures.
They also made a video and posted on YouTube. The students idea. They did their version of one of the national campaign videos. Many made their own signs. Rachel is the last student and her sign says "I am Enthusiastic."  The video is "I am Me."
For us this journey is definitely a marathon and not a sprint.  So many lessons to be learned from the events described in this blog. One is to never give up. Keep giving ideas to people. Like the book "A Fish Out of Water" says, "something might happen you never know what!" Along this marathon there are days when our muscles hurt and we are discouraged. One of my friends said last week that she was discouraged. She told her husband she needed someone to impress her. Then she said, "This impressed me." Me too.
If you still aren't sure why the R-word thing is such a big deal, read this blog, "Let's Talk About It: Retard." I think it does a great job of putting it all into perspective. And then for those of you who know Rachel, whenever you want to use that word put her name in the place of it.  It's never too late to take the pledge!  Have you?