Positive public awareness and advocacy are intertwined. It is an ongoing process and it's not just about getting a bill to the house floor.  It is about being alert to opportunities and understanding the need to promote 24/7.  It can be exhausting but it is necessary. I often refer to my roots as a 4-H member and that is truly where my understanding of promoting my passions began. I am passionate about promoting positive public awareness for individuals with Down syndrome. I've been pretty vocal regarding my belief that we have to change Hollywood, the media, politicians, educators and our next door neighbor's attitudes and images of individuals with Down syndrome. If individuals with Down syndrome and other intellectual disabilities are ever to be able to live real lives as I like to say, attitudes must change. I am intrigued by the number of people who think all these people should just know all of this stuff.  Full disclosure, if I didn't have Rachel, there's a lot I wouldn't know. So I make it my mission to educate and advocate.  I want to share some little ideas starting with the holidays.
First, send a Christmas/Holiday picture card and your annual Christmas/Holiday letter to the healthcare professionals who see your child on a regular basis. For us, that is the pediatrician, ENT, eye doctor, dentist and my ob/gyn.  DO NOT FORGET THE OB/GYN. If you don't do a picture card, consider dropping a card with a picture of your child.  It is an annual reminder of the beauty of your child's life. It keeps them in the loop. We still send cards to Rachel's doctors in Memphis. One doctor even had the entire staff and all the doctors in the office watch Just Like You – Down Syndrome. My ob/gyn's office called me once and said their staff always honored their doctors with a donation to a favorite charity. They wanted to do our Down syndrome group. Maybe not because of the Christmas card but it didn't hurt. They also sponsored our walk.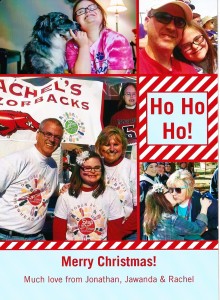 Then, send the same to your legislators. This year we sent cards and letters to our United States Senators home and DC offices. I dropped an email note to some of the staffers thanking them for their help.
Offer teachers, doctors and legislators the opportunity to be a part of your child's world. Send them information about your walk or other fundraisers.  Most of our doctor's offices in Memphis sponsored our walk.  Our ENT joined Rachel's team and came running up to get in the team picture at the very last second.  At one of our current doctor's offices, the ladies in the office love Rachel. Several came to be on her walk team and they told me they want to come to her activities. WOW! They also told me that they thought if Rachel would ask, the doctors might sponsor the event next year.  Rachel had an ENT appointment just before one of her plays.  She took a flyer with her and said to her doctor, "I want you to come see me in this." They conversed about it for about five minutes and he told her his daughter was graduating that weekend so he didn't think he could come. "Would you invite me to your next show? Giant smile and of course, she will remember! I know teachers, doctors and legislators have their own lives. Doesn't bother me that they can't come. It is every bit as much about letting them see that individuals with Down syndrome live typical lives and are involved in so many things.  It is a glimpse into what we see every day. If they are able to come to something, that's a little added icing on the cake.
Finally, I've shared this story before but I'm going to do it again.  I once invited my State Representative to come to the DS walk. He came and shortly after we met to discuss legislation. We invited him to our organization's holiday event.  He couldn't come but he wrote me a note that I still have. It said, "Thank you for educating me. I have learned from you and your family. I wouldn't know if you didn't tell me. So thank you."  Trust me when I say that someone has your legislator's ears and the ear of those in many other leadership positions. If we don't share our good news, someone else will be sharing something and it may not be what we want them to hear.
It's not too late this year. Happy Advocating!