We think one of the biggest positives for Rachel in high school has been her role as the volleyball manager. After her first middle school transition to high school meeting, one of the IEP team members from the high school reached out and said "I am one of the volleyball coaches. I wondered if Rachel would like to be one of our managers? It would give her a group to connect with and I think she would enjoy it."  Now that same team member is Rachel's current case manager, mentor and friend. Rachel is in her third year as a volleyball manager.
To say that being a volleyball manager has been a big hit is an understatement. Rachel takes her role quite seriously. Her favorite part is giving pep talks. Back when school was getting ready to start, I saw her writing in a notebook and inquired as to what she was doing. "Writing my pep talk for volleyball. The girls need me."
Rachel came home from the first volleyball game last night. The team won so that was good but she was giddy about this tweet: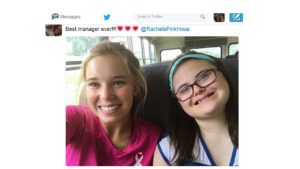 Inclusion working. Enough said.