Friday I had the honor and privilege of driving down to Fayetteville, Arkansas to attend funeral services for a great man, Jamie Jones. Jamie Jones had been the director of the Baptist Student Union (BSU) on the University of Arkansas campus for 37 years. I had a four-hour drive down alone so I had a lot of time to reflect, reminisce and listen to vintage contemporary Christian music like The Imperials, Dallas Holm and Twyla Paris. Missing was Evie who I first heard at the BSU. That would have been appropriate because when I first heard Evie at the BSU I was trying to hide the fact that I was a frightened freshman from Rose Bud, Arkansas.
My reminiscing got a kick-start on Thursday night. As I dropped Rachel at theater classes, my favorite Styx song "Come Sail Away" came on the radio. I cranked it up. Rachel rolled her eyes, sighed and said, "Mommy, mommy, mommy."  I told her that my friend Sandy used to play that for me at the BSU and on retreats.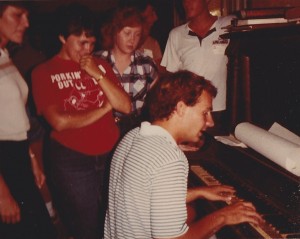 Styx isn't quite contemporary Christian but I met my friend Sandy at BSU. He was a talented musician and could play most anything by ear. I can barely tell you where middle C is! Still, he was a dear friend and knew I liked it so he would play it for me. He and some friends had a Christian band, Perspective. I spent a lot of time as one of their pseudo groupies.
I thought of retreats and marshmallow fights, getting tickled about house shoes at morning Bible study and themes like "Building Bridges" that were turned into "out of date, out of style, building bridges what a pile." We Baptists do have a lot of fun you know! I thought of travels to missions conferences, Glorieta and Ridgecrest. summer missions, and the host of spiritual leaders I met through my time at BSU.
I thought about my friends. My eternal friends who I am still close to and our roots trace right through the Baptist Student Union. Most of the girls I call my dearest friends were part of BSU.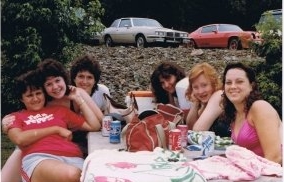 Of course, Jamie Jones, the BSU Director during those years, set the tone. I remember a lot about Jamie. I remember that he was concerned about what might be going on as we camped out for basketball tickets. We were among the originals to camp out for student basketball tickets at the University. I thought of his saying that the music of Perspective hurt his ears. I could see his big smile and yes, his bald head anytime you walked in the building and the calming effect he always had. I thought of Mrs. Best and her white go-go boots. I suspect she may have had them on when she greeted him in heaven. I thought of the passing of friends while we were in school and Jamie's steadfast love and support during those times of grief.
While all of that stands out, for me personally there are two specific times in my life that I think of when I think of Jamie. Jamie was a lifelong friend and not just my BSU director. When my baby brother died in a sudden tragic car accident, there was a call to me at my parent's house from none other than Jamie Jones with his deep, comforting voice. Then, there was a call from my college pastor. Jamie had let him know. Then, the day of the funeral, there was Jamie. He had made the four-hour trip to be there to support me and my family. He was joined by a host of friends including BSU directors and contacts from across the state.  I shall never forget. Then when we learned that our unborn daughter had Down syndrome, the call came from Jamie. The comfort and love he extended reassured me that it would all be okay. Anytime I would send Jamie a letter, I could expect a call about three days later. He always called to thank me for the letter. He especially liked pictures. I know I am one of thousands of students he impacted and loved long after we were students in the BSU.
Jamie Jones joined his Savior last week. He was 91 years old. It would be hard to think of anyone who impacted more lives than Jamie. Generations are impacted by his devotion and service to our God, his Lord Jesus Christ. By earthly means, Jamie didn't have much. Jamie described his wife Beverly as my "greatest earthly blessing" and meant it. They lived a simple life. They were married for almost 67 years. Their love and loyalty to one another was evident anytime you were  them or heard either of them speak of the other. They lived in the same home for years and years and always welcomed you in and shared what they had. They have five children and a host of grandchildren and great-grandchildren. Jamie attended the same church for probably 60 years. He sang in the choir. He served as a deacon. In addition to his very busy job, he attended to widows, orphans and the elderly – as Christ commanded. He was a visionary and his work on Capital Campaigns helped the Arkansas State Student Department establish funds to benefit student work across the state for years.  His work for the University of AR BSU yielded over a million dollars in an endowment that again will allow future students to benefit from the ministry.
I know many generations of students and their children who were impacted by Jamie Jones. We all have funny stories and touching stories about Jamie. I think we would all agree that the word we  think of when we think of Jamie is integrity. It is said that integrity is what you do when no one else is looking.  Webster says "integrity – the quality of being honest and having strong moral principles; moral uprightness." That's Jamie Jones. A man of integrity. I am certain that he was welcomed by his Savior with a well-done my good and faithful servant. I will miss you Jamie. What an honor and privilege to have known him and to know that I will see him on the other side!