I grew up on Joy Mountain. Joy Mountain is between Searcy and Rose Bud in White County, Arkansas. When I go home, I often say I'm going to the Hill! So I did return to the Hill but maybe not the one you thought!
Nestled in the foothills of the Ozarks, it was particularly lush green this trip. There has been a lot of rain.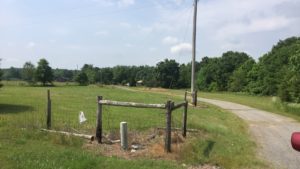 Rachel and I drove down so we could spend a few days with family and friends.  My parents still live on the same property where I grew up, property that has been in my dad's family for a long time.  The house is a different one. It was really wet and muddy so I didn't trek into the woods where my beloved little streams carve out islands. I spent hours there growing up. I also spent hours at my grandmother's house which was across the field, literally.  I went over almost every day. Someone else lives on her place now. That makes me a little sad.
My mom had homegrown black-eyed peas, ham, buttermilk cornbread, corn, and slaw for dinner. She knows I love her black-eyed peas. They just taste better than mine do.
Tuesday, May 24 was my great grandma's birthday. She would have been 128 years old. She died one day after her 99th birthday.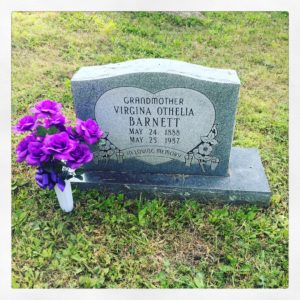 Daddy affectionately referred to her as Mommie Barnett.  I spent a lot of time with her growing up, too. She lived in an old house and always had a quilt hanging from the ceiling.  She taught me to quilt but said my stitches were too long. She loved to go fishing and she loved for us to visit.  I loved going to visit her. She was kind and loving and caring. So Tuesday morning Daddy and I took a bouquet of flowers to her grave. The rain had stopped and it was a nice morning. As it should be, Grey Cemetery is peaceful.
Rachel and I had fun visiting my sister at her work and going to lunch with her.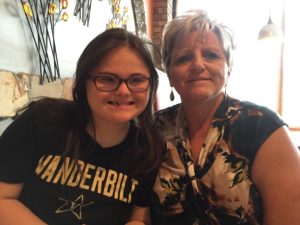 We delivered a graduation gift to a good friend. I enjoyed catching up with some of my classmates.  Especially enjoyed seeing my classmate Danny. We were in school together from 1st through graduation. He was also in Ms. Wingert's 1st grade class. I hadn't seen him in many years.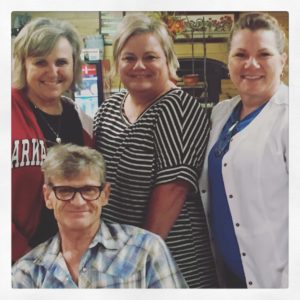 I've been reflective and prone to reminiscing a lot this year for some reason. I think maybe because Rachel will be 17 and I try to remember what I was doing at 17.  Of course, the world was much different. Growing up in the country is very different from growing up in the city and growing up in the seventies was quite a lot different from the 21st Century.
When I was 17 I was going into my senior year. I worked at the International Shoe Factory that summer. It was just as horrible as it sounds and was yet another strong motivator for college!  I was dreaming of the University of Arkansas and busy with 4-H and hanging out with friends. I knew I would be a famous writer or a Congresswoman. That summer through the Citizenship Washington Focus 4-H program, I went to "the Hill" in  Washington DC for the first time. Rachel is busy with her activities, her part-time job at Robek's and hanging out with friends.  She is dreaming of college road trips, boys and being an actress.  Rachel has been to  "the Hill" five times.  She is advocating for her Pink House.  Maybe her 17 is not so different from mine or is it?
An interesting little tidbit for you. I rarely hear the song "Little Pink Houses" by John Cougar Mellencamp. The last time I heard it was the day the ABLE Act was passed in the Kansas Legislature. I heard it Monday driving to Arkansas. Rachel and I heard it Tuesday while running around Central Arkansas. And I heard it yet again on my way back to Kansas. Three different radio stations.  Coincidence or message?
Rachel's Pink House is still Under Construction.