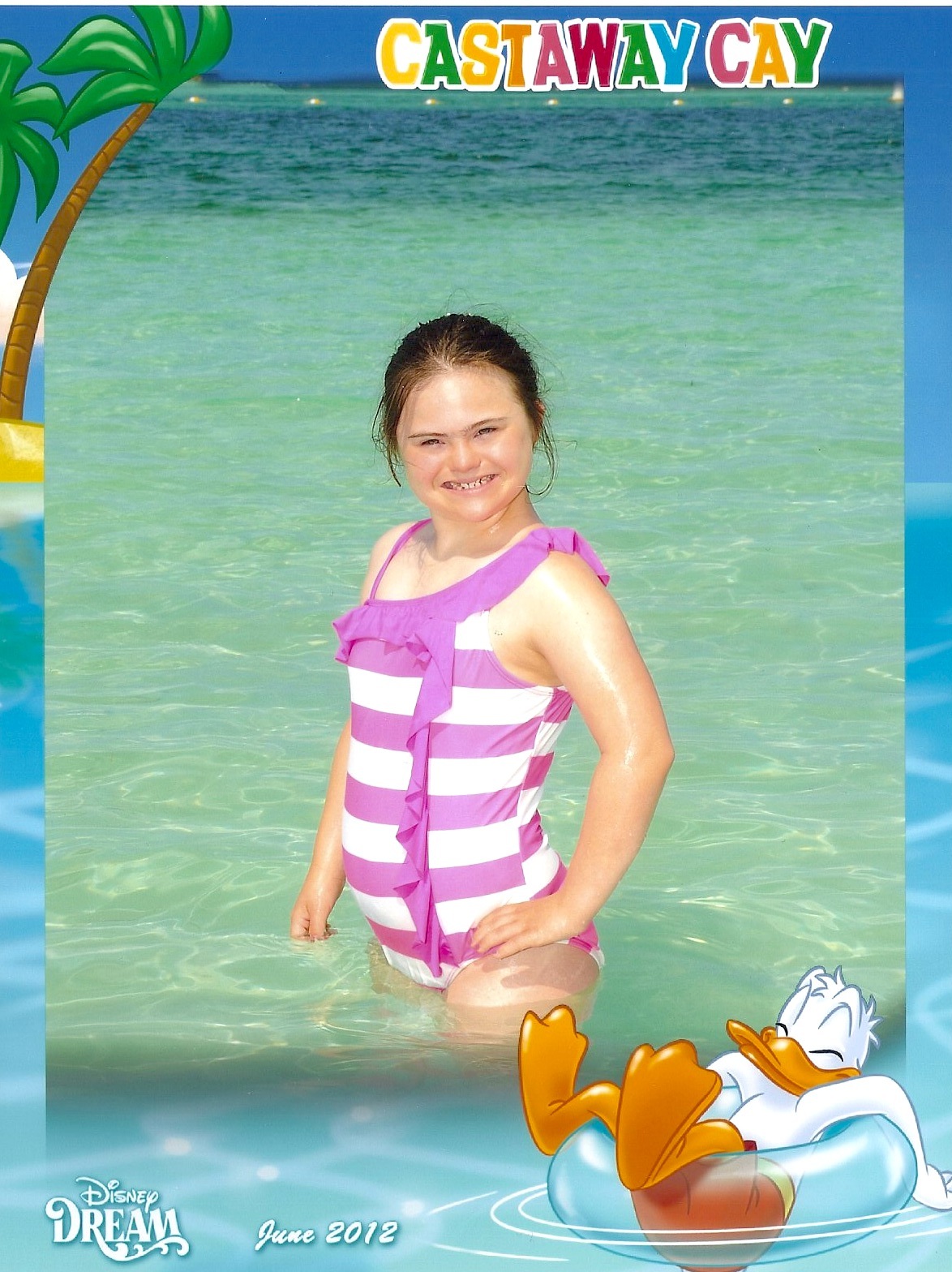 Day two of our best vacation ever.  Originally published:  June 19, 2012
Day 2 and we are off to Castaway Cay which is Disney's private island.  We ordered coffee from room service the night before. Room service is free except for tips, alcohol and soft drinks. We were down in time to see some of the characters and get some photos made and to meet the cruise director Natalie. Natalie has an Australian accent so Jonathan tried to find any opportunity to talk to or listen to her.  We told her how much we enjoyed the Villain's Show the night before and that Rachel performed in theater productions.  This is significant because when we arrived back in our room around 4:30 pm Rachel had a personal note from Ms. Natalie: "To my aspiring little actress, Rachel…. "  She included a signed photo of the characters. Rachel was ecstatic.  How she knew our names or remembered us is magic. Rachel met Rose in guest services and Rose sent her several notes, arcade cards and chocolate Mickey's throughout the week. More of that excellent customer service.
We love the beach so our time at Castaway Cay was amazing. We went over to Pelican's Point and scouted out a place.  We had rented flotation devices.  The water and breeze were cooler than we anticipated. Jonathan and Rachel tried their Pelican Point water slide and said it was FAST! We mostly floated on our tube and raft.  Then, we did what else? Participated in character dance parties and crab races and made some new friends.  Our new friend's son is nine and has a visual and hearing impairment. We met them because his ear plugs looked similar to Rachel's!  The mom is an occupational therapist. Another of my friend's has a teenage son with visual impairment so my new friend exchanged email address with me in hopes of getting connected with my other friend. We all learn from each other.  Lunch at Cookies Barbecue is included in your cruise. Rachel and I enjoyed our lunch but Jonathan thought the barbecue itself was a little lacking.  No worries – there's more food at the boat.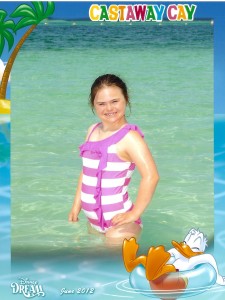 That night was dress up night in the Royal Palace followed by the Golden Mickeys. Again, her expressions were so innocent, so full of joy. Then, Rachel headed to the Edge, so Jonathan and I found a coffee bar and checked out the ship. And we watched the Hogs beat Baylor to go to the College Baseball World Series in baseball. Cool. That delayed Rachel and Jonathan's trip to the Aqua Duck which they reported was cold in the evening!
Day 3 the ship ported at Nassau in the Bahamas. We did a little shopping. In fact Rachel bought a dress with some money my friend Maribeth had given her. Here she is pictured with Natalie, the cruise director, and Rachel is wearing her proud purchase.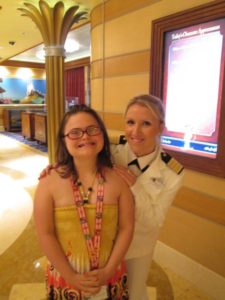 We found a Starbucks and all had a drink while Omar took us on a horse and buggy ride. Omar was pretty funny.  We learned that he was single and he tried to entice every single woman we saw!  He did share some interesting factoids about the island.  We were invited to have Rachel's hair braided by a licensed braider no less than 25 times. We returned to the ship and ordered room service lunch before heading out to the Blue Lagoon. Jonathan says this may have been his highlight. He and Rachel did the Dolphin Encounter. I was the observant photographer. The pictures are sweet, and I think Jonathan may have liked it even more than Rachel!  They petted, kissed and danced with the dolphin. I called the dolphin Flipper. That wasn't her name but I used to watch Flipper so oh well. They could also touch the teeth but Rachel didn't care much for this. We lounged in hammocks before our boat ride back.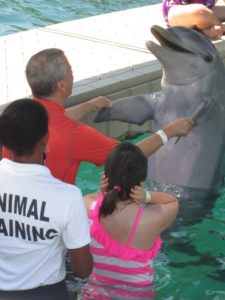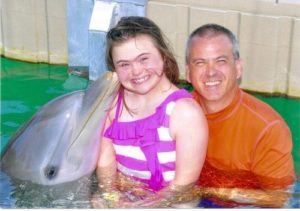 We had early seating for dinner so we had to rush a bit to make it dinner at the Animator's Palate.  I'm so glad we made it because it was our favorite dining room.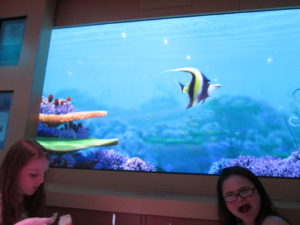 That night Crush, the Sea Turtle from Finding Nemo, chatted with us and the scenery was so colorful and changed next to you. I think Rachel had lobster ravioli that night.  Again, her expressions were magical.  Tuesday night was movie night so Rachel and her dad saw Marvel's Avengers in 3D in the Walt Disney Theater.  They loved it.  Then, Rachel went to the Edge where they sang happy birthday to her at midnight. The clock strikes 12 and you are a teenager, Cinderella  Rachel.