Today, I pause to celebrate the life of Lori Siegal. Lori would have celebrated her 34th birthday today. While her earthly life ended on November 28, 2005, Lori lives on and continues to do what she desired the most: Speak on behalf of individuals with Down syndrome. So today you will have to afford me another indulgence as I post this blog in Lori. I wrote this nomination on behalf of the Down Syndrome Association of Memphis and the Mid-South for Volunteer Memphis' Spirit of Giving Award. Lori is the only person to ever win it posthumously. Happy birthday, Lori. I will always miss you and I will always be inspired by you!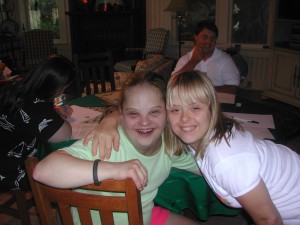 2006 Spirit of Giving Award Nomination
"When I first found out that I had Down syndrome I was scared and I didn't like my life. But I came to realize that God made me that way and this was His plan for me. My journey in life has led me to meet many wonderful people. I am thankful that I have achieved many of my goals like being the first self-advocate on the DSAM (Down Syndrome Association of the Mid-South) Board. Many exciting things have happened to me like being elected by my peers to the National Down Syndrome Congress Board as a self-advocate. I have been featured in magazine articles, newspaper articles, a radio interview, and have spoken at the Buddy Walk. I have made many new friends while participating in the Partners in Policymaking Class. Hopefully, I have shown others with Down syndrome what we can accomplish in our lives. We are all unique people and our journey has just begun."
Lori Siegal made these comments on October 17th, 2005 at a party to celebrate the success of the 2005 Buddy Walk for Down Syndrome Awareness. Lori had a lot to celebrate in a year full of firsts for her, the Mid-South community, and in fact the nation. Lori, a self-proclaimed self-advocate (a person with a disability who advocates for him or herself and/or others) had accomplished so much in her life. Lori had graduated from Houston High School. She had a job on the clerical staff at Air Draulics Engineering Company, and she accumulated almost 800 volunteer hours at Germantown Methodist Hospital. Still, Lori's lifelong dream was to speak on behalf of people with Down syndrome.
Lori's dream became a reality in October 2004 when she was invited to give the welcome at the Mid-South Buddy Walk for Down Syndrome Awareness. To a crowd of almost 2,000 she proclaimed, "Today my lifelong dream has come true…. To speak on behalf of people with Down syndrome…. Welcome to our Buddy Walk." Thunderous applause. A dream comes true!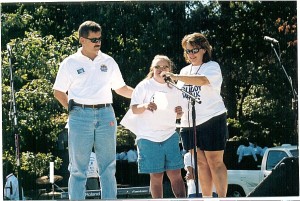 Lori's dream did not end there. Lori was invited to serve on the Board of Directors for the Down Syndrome Association of the Mid-South as the first self-advocate to serve in this role. This was a huge turning point for the organization and for people with Down syndrome living in the Mid-South. With Lori's help, we were finally able to say that we aren't just saying people with Down syndrome "can", we are showing them. Lori began her term in the fall of 2004. Always prepared, she wasn't just there to fill a quota. Lori took her job as a board member seriously. She wanted her ideas to be heard. She wanted to be a part. As part of her duties, she was given the assignment of co-chairing the Buddy Walk for 2005. One of the new venues for the 2005 event was the "Imagine the PossABILITIES" tent. This tent was a showcase of individuals with Down syndrome – showcasing abilities and talents. Lori came up with the idea to have the "Wheel of Facts". She came up with facts about DS. Individuals would spin the wheel and if they answered the question correctly, they won a prize. The tent and the "Wheel of Facts" were both successful and will be featured venues at the 2006 Buddy Walk.
The purpose of the Buddy Walk is to promote the awareness and acceptance of individuals with Down syndrome in the community. A major goal of the Mid-South Buddy Walk has been to bring in more school and community leadership. With all that was good about the Buddy Walk, we believed we needed community leaders especially from the school systems to participate and experience the largest
disability awareness event in the Mid-South: The Buddy Walk. The committee decided that personal letters from self-advocates would be a great way to utilize self-advocates and showcase their skills. Key leaders were identified. Lori's job was to assemble the group of self-advocates who would write the letters, assist in drafting a model letter, and assist in coordinating the writing campaign. On Buddy Walk day, Carol Johnson, Superintendent Memphis City Schools, Wanda Halbert, President, Memphis City School Board, Ron Lollar and Anne Edminston, Shelby County School Board members, and Emily Nelson, Director of Special Education for DeSoto County Schools were among the participants. Each indicated that the personal invitations were part of the appeal in attending the Buddy Walk. This may seem small to some, but it was a major accomplishment for individuals with Down syndrome. The mantra continues to echo, "We had no idea that the Buddy Walk was such a big deal. Thank you for including us." Amidst doing all of this, Lori managed to raise over $1,100 in pledges and won the award for the Self-Advocate raising the most pledge dollars for the Buddy Walk.
Lori loved to talk to groups or individuals about Down syndrome and supporting people with Down syndrome. Talking with Lori would shatter anyone's stereotype of the pathetic person with a disability who is to be pitied. She focused on her abilities. As president of DSAM, I invited Lori to accompany me when meeting with corporate sponsors. She accompanied me for a presentation to AutoZone, and she made her usual impact. Time was running short and Lori had not given her input. She spoke up and said, "Don't you want to know what I think?" Indeed they wanted to know and Lori shared and shared! Brenda Berry, Communications Manager for AutoZone, said, "Meeting Lori was a real turning point for me. I knew and loved children with Down syndrome, but interacting with Lori helped me to 'get it'. I will never forget when she said, "People shouldn't pity me because I have Down syndrome. I have a great life. I can do the same things other people do. This is the way God made me and there's a lot he wants me to accomplish."
Lori wasn't afraid to try anything. She decided that she wanted to run for a position on the National Down Syndrome Congress Board (NDSC). So, Lori submitted her application and wrote her speech. This position was elected by peers: over 200 self-advocate peers from across the nation would vote after hearing from the candidates. In her campaign speech, Lori said, "I have five reasons that make me the ideal candidate for the national board:
I am a very social person.
I speak from my heart about people with Down syndrome and other disabilities.
I am very passionate about many subjects dealing with people who have Down syndrome.
I am not afraid to speak my mind and voice my opinion.
Using my past experiences, one of my main objectives when on the board would be to work with others to help them become self-advocates on a local level."
This was Lori's first try for the position and she was running against nine other candidates. Rarely was a candidate elected on a first try. Lori won.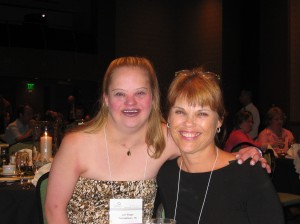 In 2005, the Down Syndrome Association of the Mid-South hosted the first ever Self-Advocates Conference, "Imagine the PossABILTIES". The conference focused on health and fitness for individuals with Down syndrome and other disabilities.
Karen Gaffney, a nationally know self-advocate, came and spoke. Lori served on this committee, and as was usually the case, her input made a huge difference in helping the committee to know what self-advocates would want. Twenty-eight self-advocates participated and 260 people attended the dinner event. It was a huge success.
It wasn't just Lori's input that made the difference. It was her spirit. At a strategic planning meeting for the organization when asked what gave us strength, one mom said, "Having Lori Siegal energizes me."
On November 28th 2005, Lori Siegal died of complications from heart failure. She was 25 years old. Almost 50% of babies born with Down syndrome are born with a heart defect. When she was born, babies with Down syndrome weren't automatically screened for these heart defects. By the time the defect was found, Lori had permanent, irreversible heart and lung damage. But Lori's story didn't end on November 28th. Her story goes on and will go on and on and on: In the lives of parents like me who got to know her and see her as a remarkable role model for our own children and came to call her friend. In the lives of business, school and community leaders who met and interacted with her. In the memories of those who called her friend. And in the people who hear about her again and again as we tell the story of people with Down syndrome and the personal story of Lori Siegal. In her death, Lori continues to live out her dream of speaking on behalf of people with Down syndrome.
I had the humbling and overwhelming privilege of speaking at Lori Siegal's funeral. It was a beautiful celebration of a life lived well. I closed my tribute with these words:
"In closing I would like to share some words from a song that I believe
defines the life Lori led. Please listen carefully to the words of Steve Green's song, "Find Us Faithful".
May all who come behind us find us Faithful.
May the fire of our devotion light their way.
May the footprints that we leave, lead them to believe and the lives we live inspired them to obey.
May all who come behind us, find us faithful.
Lori,
 thank you for the fire of your devotion
for lighting our way
for leading us and teaching us to believe
and for being faithful to the call and the life God appointed you. "
So… for the fire of her devotion, for lighting our way, for leading us and teaching us to believe, and for being faithful to the call and the life God appointed her. That is why I believe Lori Siegal deserves the award for the Volunteer Memphis Spirit of Giving Award – Board Member Division.
Footnote: I am president of the Down Syndrome Association of the Mid-South and this is my third time to chair the Buddy Walk for Down Syndrome Awareness. I am the mother of a six-year old daughter who has Down syndrome. It is my great privilege to have known Lori Siegal, to treasurer in my heart beautiful memories of her spirit, to have her life serve as a role model for my daughter, to tell her story almost every time I speak on behalf of our organization and for individuals with Down syndrome, and to be allowed to serve as her mentor. Mostly, it was my great privilege to call her friend. I realize that this is an unusual nomination. My plan had been to nominate Lori for this award after she had the opportunity to serve for a full year (she completed her year as a board member in October). So, I'm staying on task as she would have wanted. Her death does not negate her dedicated and pioneering service. Thank you for the opportunity to honor her service, dedication, commitment and influence in this way… Jawanda B. Mast
April 2006