Today is #GivingTuesday. The focus is on generosity and giving to your favorite cause or charity. I had one of my rather lengthy dissertations in mind. However, Rachel has a challenge for you instead!
My Rachel's #GivingTuesday Challenge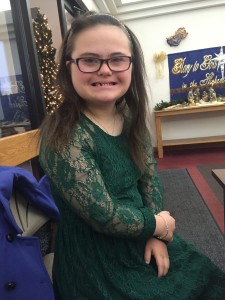 I am responding to My Rachel's Challenge and donating $21 to the National Down Syndrome Society (NDSS) on this, Giving Tuesday. Won't you accept her challenge and join us too?  It's easy – just click here classy.org/NDSSgivingtuesday
Disclaimer:  Since August I have been an employee of the National Down Syndrome Society (NDSS). Jonathan and I first learned of NDSS when we received our prenatal diagnosis almost 17 years ago. There wasn't much on the internet and most of it was scary! NDSS had a website with information.  When Rachel was 14 months old, her picture was chosen to be a part of the NDSS Times Square video presentation. This was part of a relatively new event, the New York City Buddy Walk®. Since then,our family has been involved with NDSS in some way. Since then, we've been supporting NDSS in some way. Whether by chairing or participating in a local Buddy Walk®, an NDSS Conference, the Times Square Video presentation, Buddy Walk® on Washington, testifying at a hearing or advocating on state and local issues, NDSS has been part of our world for almost 17 years. We believe that NDSS' leadership has been essential to impacting public policy change for individuals with Down syndrome on the federal level. That's why we are giving to NDSS on #GivingTuesday. I encourage you to say yes to My Rachel's Challenge!