On a day like today most 15-year-old girls get up and go to school. Rachel, she got up early and rode with mom to Topeka. Today would be the next to last step in the process of the passage of the ABLE Act. Of course our last step will be when we open Rachel's ABLE account. We're taking Congressman Yoder and Representative Davis along! Since inquiring minds want to know, that is most likely two years out because it all has to be set up, regulations written, bids taken, yada yada yada. The nuts and bolts. Remember, we are the PR girls.
First stop, KS ABLE Savings Account bill sponsor Representative Erin Davis' office.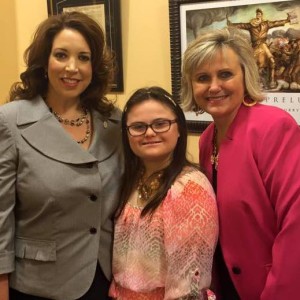 I cannot say enough great things about Rep. Davis. What a champion she is for those with disabilities and their families!  I am especially proud that this is the first bill she sponsored. What a great bill to call your first. Thank you Rep. Davis! I think/hope I might see her in Washington someday.
Next stop, the Governor's Office. As we waited for him, we met and re-met some of the legislators and champions. State Treasurer Ron Estes and his entire staff have embraced the ABLE Savings plan and are seen as leaders across the country for this legislation. I'll forget someone if I start listing names, but I certainly have to say thank you to State Senator Greg Smith who amended his Senate bill to include the ABLE Act. This was huge in the safe passage of the ABLE Act. Want to give a shout out to Rocky and Mike at the Kansas Disability Rights Center. They stay on top of all legislation that impacts individuals with disabilities and they were pivotal in helping navigate the ABLE act to the finish line.
Then, the Governor came in. Rachel re-introduced herself and they had the opportunity to chat a bit. We took a ton of pictures. Then we took more pictures. Two of my personal favorites.
He gave Rachel the copy of the bill and the pen.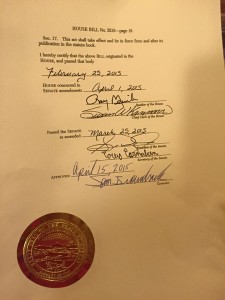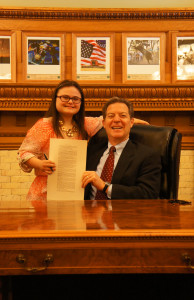 She wanted to take them to school today but I was afraid the actual bill would be mutilated. I hesitantly agreed to let her take the pen. We'll get them framed. They don't represent just the Governor signing this landmark legislation, though that would be enough! They represent eight years of hard work by so many people from the national level to the local level. Many emails, phone calls, plane rides, letters, tears and prayers.  The bill is representative of that labor of love and conviction and that famous pink house!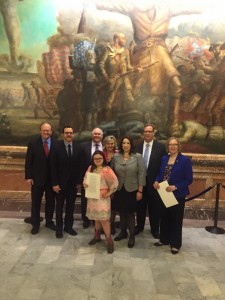 Rachel handed out her business cards, too!  And I might have taken a moment to mention to Governor Brownback that we want to start working on the Kansas version of the Down Syndrome information Act. After all, when he was Senator Brownback he co-sponsored the Kennedy-Brownback Prenatally and Postnatally Diagnosed Conditions Awareness Act. I might have mentioned it to a few legislators, too.
Then we headed back to Olathe. Rachel is always troubled to miss school for anything. She was anxious to get back. On the way back she had to read Chapter 16 of "To Kill a Mockingbird" on her Read2Go program on her iPad. Then, she had to study her iPad flash cards for her test on Friday.
On a day like today, I'm proud to be an American. I'm proud to be a Kansan. I'm proud to be Rachel's mom.