I grew up in rural Arkansas. I have said before that sometimes it seems like a galaxy far, far away.  Other times not so much. For as long as I can remember I had a vivid imagination, and I loved to write.  I also dreamed of going places. We had rotary phones and until after I left home, we had a party line where you shared the phone line with others. There were no cell phones. There was no internet. We were really lucky because we had four television channels and one was the education station. We listened to Cardinals baseball on static-filled radio, but Bud Campbell and the Razorbacks were pretty clear on any give Saturday.  I don't know what my mother did without so we could have a set of Worldbook Encyclopedias, but they are still on a shelf behind my dad's chair. In addition to spending hours looking through those and finding places and things to dream about, I also spent hours looking at any kind of catalog I could find. JC Penneys, Sears and Roebuck, Montgomery Ward – it didn't matter. It fed my imagination. Through the 4-H program I was able to find a window to the world. It is how I learned to organize anything and everyone, how I learned to give a speech, fundraise, run a meeting (taskmaster that I am), ask anyone for anything, and it was my start in working with the media and press releases. I would take pictures and write articles about our 4-H work and take to the local paper.  It was a very different time and a very different world.
Fast forward to now and Rachel's world. She lives in one of the most affluent counties in America. She has two iPads (one from the school), an iPhone 6, a room bigger than many NYC apartments, multiple televisions in the house with hundreds of channels and she has traveled to NYC, San Diego, Chicago, Washington DC, Los Angeles, Bahamas on a Disney Cruise and the beach many times. She watches the newest movies and a dine-in theatre instead of the drive-in and then watches them multiple times on her iPad, Netflix or Amazon.  The world Rachel is growing up in is quite different than the one I grew up in. Both have their perks and drawbacks.
There are some common threads in both of our worlds and some similar contributing factors to our the successes in our journeys.  We both have a deep faith that shapes who we are, but another common denominator is mentors or role models. I often mention and describe my 4-H club leaders, Mae Ann and Wayne.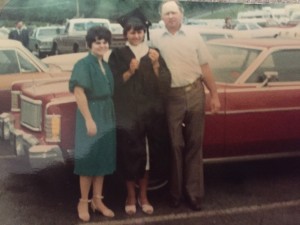 They are still a very important part of my world. I only see them a few times a year. Still, we exchange cards, pictures and texts and they are there if I need them. I never think of growing up in Joy, Arkansas without thinking of them. They poured their love and resources into me and I am eternally grateful. I will spend a lifetime paying it forward and never be able to repay them. There have been others along the path. County Extension Agents and teachers to name a few. The same is true for Rachel and I think it is an often overlooked key to success in navigating this journey called life.
Rachel has some great mentors. The paraprofessionals who have become friends.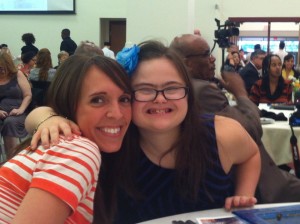 The older girls at church who have been so remarkable. There are other adults like Leslie, Holley and Sara who have poured love and time into Rachel and helped to shape her.  There are teachers like Ms. Cox and Ms. Fitzgerald who are there to provide support and guidance and private investigator material for mom.
Then, there is Bethany. We met Bethany when we first moved to Kansas. She interned in the department Jonathan worked in and she loved dogs. She started out as dog sitter and house sitter and graduated to babysitter.  When she graduated from college and then moved into her own place, we had to find a new dog/house sitter. She graduated to just Rachel's friend. She is kind of like a big sister and I think Rachel is kind of like a little sister to her.  Bethany has been to plays and CYT showcases, baptism, birthday events, Children's Mercy when Rachel had pneumonia, DS walks, fundraisers, school events and more. The most significant thing she does in Rachel's world is hang out with her. She consistently carves out time to spend a morning, an afternoon or a day with Rachel. They go to movies, get their nails done, make cookies, eat sushi (mercifully for me) and just hang out. When Rachel was selected to be the Sporting KC Victory Project Honoree (nominated by Variety Children's Charity), we could take two people besides our family. Rachel chose Bethany and her significant other.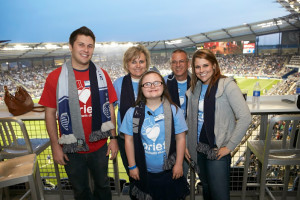 Bethany is just Rachel's friend.  She loves her, accepts her and invests in her. When they get a date on the calendar it is labeled "Bethany Day" and there best not be anything that causes it to change.
Like all of us, Rachel needs people she can count on. She is a blessed young lady because she has a lot of people who have invested in her life.  For Rachel these role models/mentors aren't just nice to have in her world. They are essential to her success. They provide a safe classroom where she can go and say I messed up or I got my feelings hurt. She needs people who will help her find her way when she is overwhelmed.  She needs these people who laugh with her and not at her. I look at my own life and realize the impact role models and mentors have had on my successes. Doesn't matter if you are the National Merit Scholar, the average kid or if you have Down syndrome, we all need people who value us and invest in us. I do not believe the role of a role model or mentor is overstated. I think strong role models and mentors are great for all of us and not just Rachel. And I don't think they have to be typical, same aged peers. Thank you Bethany for being a great one and for being a very special friend.