Of course, there is a lot I like about inclusion. One of my favorite things about inclusion is what it does for so-called typical people.  Yes, I love it when the precious high school senior turned Vanderbilt student says, "Rachel has changed my life."  I love it when the young lady writes a blog about Rachel and calls her fearless. I love it when her teachers tell about how she helps the other students. She helps them by encouraging them, but she also helps them because she demonstrates hard work and a joyful demeanor. I'm not encouraging cheating, but I love it when one of her church friends catches her cheating in a game of "Hedbanz."  Seems she was getting them all right because she could see her headband in the mirror.  I like that cognitive development and resourcefulness. I love to hear fellow CYT families say that they and their children are more compassionate and more thoughtful people because of their relationship with children with disabilities in our theater program.
Last week, Rachel was in the ensemble for Shrek. It was an indiscreet role. Everyone is important and part of the cast.  Even though she is on stage for short stints, she took her role as seriously as Shrek, Donkey and Fiona took their roles. Her enthusiasm and love for the theater and the other actors is infectious. Her short stints on the stage made an impact totally engineered by God.  Yes, many of our friends and acquaintances told us how much they loved seeing her on stage. At the end they dance to "I'm a Believer" and she gets into her dancing. She got into so much that her dress had to be re-hemmed four times!  Thanks costume ladies and Josie! Her smile was as infectious as ever. I love that about inclusion that she gets to be on stage with seemingly typical kids and spread her joy in the journey just by watching her.  You cannot pay for that kind of publicity folks. I love all of that about inclusion.
One of my favorite things about inclusion though is the people who do not know Rachel who come to me and say is this your daughter? "I couldn't stop watching her." And the patron who told her fried that while she loved the show, she was so impressed with the young lady with Down syndrome. She "exudes joy and confidence.  She melted my heart."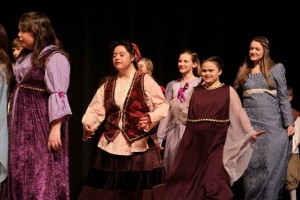 That's just one of my many favorite things about inclusion.  I don't know the history but Emma Thompson said, "Being disabled should not mean being disqualified from having access to every aspect of life."
Thanks to Christian Youth Theater, Josie (HEART* Director), the directors, artistic team and great kids we know for making it possibly for Rachel and many other students be a part of this very important aspect of life.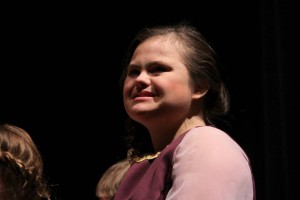 * HEART (Helping to Encourage Awareness and Recognition in Theater) is is a full inclusion program that provides individuals with disabilities the opportunity to participate in classes, shows and camps at CYT KC.